Mission
Sacred Earth is a learning space. I invite you to join me on a journey of discovery into the world of plants and people, ecology, and eco-psychology. We will explore the many ways in which we have related to plants, used them, or abused them. I approach this field of study from a broad perspective, ranging from the practical to the spiritual, and offering food for thought from many different angles. You will find a host of research tools and networking facilities to assist your journey along this path of knowledge. Take your time to wander through these pages and explore the many links. I hope you will enjoy the adventure.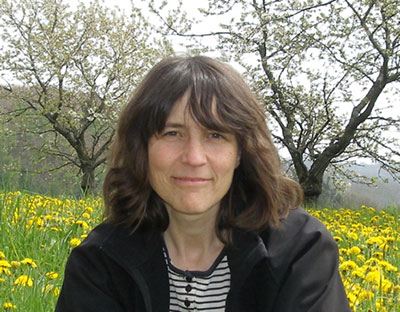 Kat Morgenstern
Creator
I am an earth pilgrim, a plant lover, and an unashamed tree hugger. 
Life is a journey, a story unfolding, a tapestry woven, with threads connecting, from the cradle to the grave. I follow my heart, curious and mindful, on the well-traveled ancient pilgrim's path, or following my instincts into the wild.
Travel is my lifeblood, the way I connect to space and place, to people, to plants, to this beautiful planet we call home. My life journey is an adventure.
As an herbalist and ethnobotanist, I write about the complex relationships between people, plants and Mother Earth and the cultural dimensions of food, of healing, of medicine, and of spirituality. 
As a gardener, I write about permaculture, sustainability, and adventures in cooking.
As an astrological counselor and nature coach, I write about the inner journey of self-discovery, and about finding meaning in a crazy world.
As a storyteller, I try to make sense of it all.
Disclaimer Notice
Please note that although all the references to edible and medicinal herbs are tried and tested, their efficacy cannot be guaranteed and has not been approved by the FDA. Furthermore, everybody responds differently to foods and remedies, and adverse reactions cannot be ruled out. Historical information regarding medicinal or poisonous plants is included for educational and entertainment purposes only and should not be tried out at home. Everybody uses herbs at their own risk and thus must make themselves fully aware of their potential powers and dangers. None of the information given here should replace a visit to the doctor should this be necessary. Neither Sacred Earth nor Kat Morgenstern accepts responsibility for anybody's home experimentation. Links to external sites are included as pointers to further resources – we do not endorse these sites and nor are we in any way responsible for their content, or verify that their content is accurate. Please use herbs with due care and respect. Just because something is natural does not mean it cannot harm you!
Privacy Policy
I am sure, by now everybody is aware of the fact that privacy on the internet has become a major concern. Sacred Earth has always published its privacy policy, long before it became a requirement.
I am not interested in your personal data. Nevertheless, using Google's services or providing links to companies that sell items that relate to some of the things that I write about, requires the use of cookies. If you buy anything from these merchants they can track which site you came from and pay me a small affiliate fee, which helps to support this website.
You can make your own adjustments when it comes to accepting cookies by viewing the settings and making your own choices.  Google also tracks web traffic via something called 'API key'), which collects visitor information for Google's own purposes. You can make adjustments to your google privacy settings to control what data you allow Google to collect while you are browsing.
As a precaution, to keep the comment area safe and free of spam, I have enabled the sign-in function for comments, which means, only registered users can comment.
If you wish to receive updates when fresh content is available, you will be asked to share your email address with me so that the blog posts can be delivered to your inbox. Likewise, if you want to sign up for any of the social networking features (facebook, twitter, Instagram, Pinterest) your information will also be shared with these services, to which you have already agreed when you signed up to them.
We don't currently use Google ad words and such like, so you will not have to manage a host of advertising cookie permissions to use this site. The only adverts you will see are for Amazon, and for some greener companies, for some specific, products (links).  As an Amazon Associate I earn from qualifying purchases. These affiliate schemes make a tiny dent in the running costs of this website and help to compensate me for the time and effort I have put into the site over the years. For the most part, it remains a labor of love.
The only banner ads I place are to my sister sites, sacredearth-travel.com and astro-insights.com. Links to sites that I recommend for further information will be few, as nowadays website owners are also held responsible for information they link to!
That's it, in a nutshell. For the full legaleze blurp, see our full Privacy Policy