Hi, Thanks for stopping by!
This website has been sleeping for quite some time. Some people thought it had died altogether. But, no! Thankfully, that is not actually the case. Rather, I have been going through a long period of reassessment, thinking, learning, and restructuring. I needed a new vision. And eventually – I found it!
So here we are, back again, with a whole new look and a slightly different angle. This site is still about plants, about people and about the planet, and how we can all make a difference. But, the vision has expanded. During my long absence, I have become more interested in eco-psychology, vision quests, and earth-centered spirituality. Although they had always been part of Sacred Earth, I now feel a strong urge to give them more space. 
If you were a fan before, you will have noticed that I have updated and modernised the site's design – hopefully for the better :D. Looking through the old articles I was tossed – should I just throw them out, or revamp the whole site? In the end, I opted for the latter. But instead of slogging through hundreds of pages before coming back on-line, I decided to edit and post them as I go along. So, some of it may look familiar. But there will also be plenty of fresh stuff. Which reminds me – please subscribe to nature notes, if you would like to be kept in touch.
 I am happy to be back and I am happy you are here to join me! So let's get started!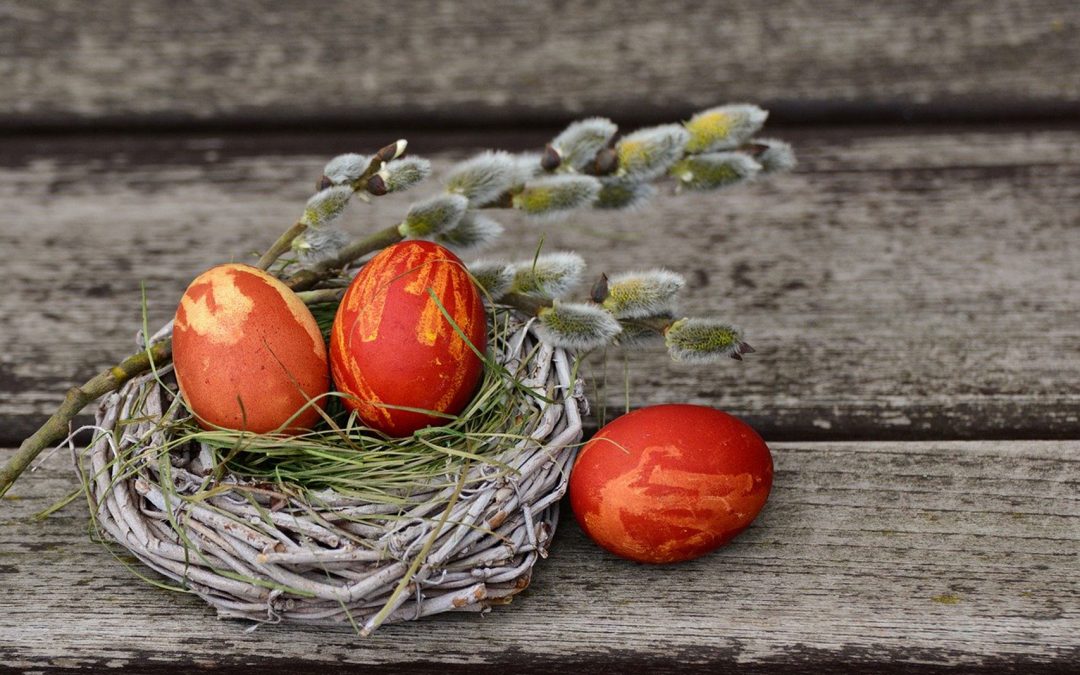 For many Christians, Easter is an even more important festival than Christmas. Easter is a festival of sacrifice and resurrection. We commemorate Christ's sacrifice on the day he died on the cross as Jesus, the man, only to be resurrected as Christ, the son of God and redeemer of mankind. In Christian symbolism, the cross commemorates the crucifixion. However, the cross is a much older symbol and in pre-Christian traditions it was more often associated with the cosmic order, the four directions, the axis of time and space, and the sacrifice of the ego, which is bound to the material world.
Sacrifice, in the symbolism of the ancient world, was not a celebration of death, as it may seem, but of life. A sacrifice was a way of giving back, to offer life to life, so it may continue. Death and rebirth as two sides of the same door. Life feeding on itself and continuously regenerating itself.
A sacrifice had to be something special. Not any old rat would do! This was a gift to the Gods! So, it had to be the very best, something precious! Originally, it was the king himself. Later, it became the his first-born. Eventually, animal tokens were used instead of the self. At Easter, that sacrificial animal was an innocent lamb. Even today's traditional Easter feast often features a lamb roast as the centre piece. A distant echo of this ancient sacrificial tradition.
Easter is a movable feast, which is a clear indication that it is a festival that dates back to pre-Christian times. The date, which changes every year, is determined by the first Full Moon that follows the first New Moon after the Spring Equinox. Originally, Easter, or Ostara, as it was known, was the festival of the Goddess Eostre, a pagan Mother Goddess that has been linked to the Great Mother Kali.
Her sacred 'Moon Hare' has become the 'Easter Bunny'. And as for the eggs, they are a symbol of life. The egg represents unborn potential, and the promise of rebirth. Traditionally, the eggs would have been dyed red, the colour of life. To give these as a gift is a blessing: Life! Abundance! May your potential unfold and blossom!
Source:
The Woman's Encyclopaedia of Myths and Secrets, Barbara G. Walker, HaperCollins, 1983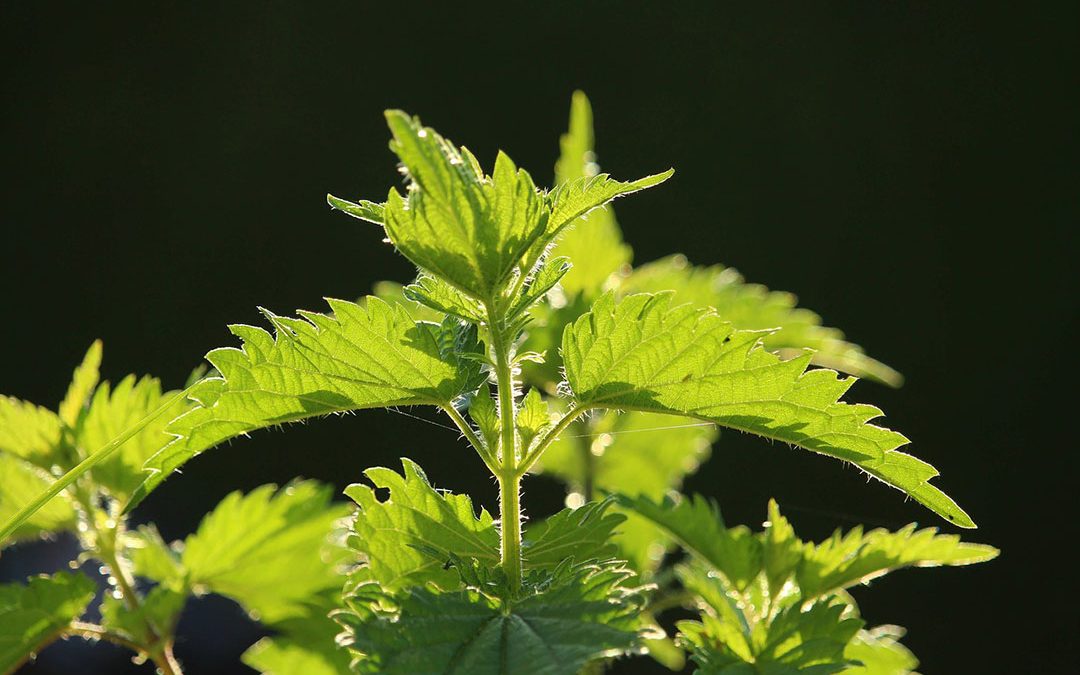 Foraging Stinging Nettles (Urtica dioica)
Few herbs are as generous as the humble stinging nettle. Inconspicuous, it assumes a modest corner in the garden: untended areas, half in the shade, perhaps near the compost where the soil is rich with nitrogen. Inconspicuous that is, until one happens to brush against it carelessly – which jolts our awareness rather painfully.
The Stinging Nettle is a warrior plant, armed with tiny needles that cover him from top to toe, leaves, stems and all. The lightest touch will break off the needle points, just like a hypodermic needle, and inject formic acid under the skin. This causes the sting.
But Nettles don't just protect themselves with this weaponry – they are extremely hardy and notoriously difficult to exterminate. Even concerted efforts fail to eradicate an established nettle patch. Nettles are earth defenders, they protect disturbed soils and assimilate nutrients. They cleanse and heal the earth and fend off intruders with their stinging needles.
They are often considered a nuisance. Nettles can spread like wildfire and their rhizomes are seemingly incorrigible. Even a tiny part left behind propagates a new colony. Gardeners tend to want to get rid of them by any means they can. They hack and hoe the ground to pull them out, leaving the soil bare and exposed to the elements. If that does not work, they wage a chemical attack on their garden ecology.
Nettles don't waste any energy on producing pretty flowers. But looks aren't everything. Even though they themselves don't smell or look particularly attractive, they make excellent companion plants, by helping their companion to shine. Nettles stimulate the essential oil production in other herbs that grow near them, especially in those of the mint family. Increased levels of essential oils help to make these plants more resilient.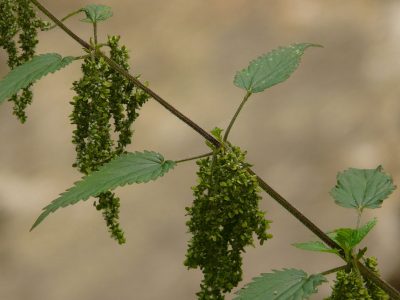 The much-feared sting may be unpleasant, but it is not necessarily 'bad'. The Romans used this very property as a therapeutic measure for treating aching arthritic joints by means of nettle flagellation. We don't tend to apply such heroic therapies anymore, although it is said to have been quite effective. Nowadays we prefer our medicines to come sugar-coated and looking like sweets.
In the olden days, Lent, which is the six week period leading up to Easter, was dedicated to body-purification. People abstained from meat and heavy foods while making use of early spring herbs that act as gentle tonics and bitters. These stimulate the eliminative functions of the body and help to clear out the residues of several months of sedentary winter habits: heavy foods and not enough exercise. It is a process that in older herbals is described as 'blood cleansing'.
Nettles are among the first herbs that pop up in the spring. Perfect timing for those who are planning to do a herbal spring cleanse. Nettles 'wash' the system from the inside. Their powerful diuretic properties stimulate the kidneys, which filter the blood and flush out metabolic waste matter such as uric acid crystals. A by-product of protein metabolism, these crystals tend to lodge in the joints, where they can become extremely painful.
Of all the wonderful early spring tonics Nettles is the star! They are rich in iron, calcium and vitamin A, C, D, E, F, and K. They stimulate and tone the vital organs of the body, promoting elimination without catharsis. They remove waste matter while replenishing the body with nutrients. They not only cleanse the blood, but their iron and vitamin C content also helps the body to make new blood cells.
This tea is very safe and can benefit anybody, though it is particularly beneficial for women who are going through hormonal changes, during puberty, menopause, or pregnancy. Nettles can also help to lower the blood sugar level, which makes them very suitable for those suffering from diabetes 2.
Nettles are not just medicinally useful, but they also make excellent nutritious and tasty wild food. They can be prepared like spinach or other leafy potherb greens. It is best to mix them with other spring herbs such a dandelion, or chickweed, or to add them to mashed potatoes or rice. They have a pleasant, 'earthy' flavor, that is adaptable to many dishes and seasonings. Your imagination is the limit.
So, what is the trick to picking nettles without being stung to bits?
The easiest way is to wear rubber gloves while picking and processing them. Or, grab the nettle with care and determination while avoiding accidental brushing. It does require some practice, but it works. Grabbing them hard crushes the needle points.
But most foragers have gotten used to a little stinging here and there. While at first, it can be annoying, once the burning sensation starts to subside the affected parts seem to become more sensitive to subtle energies. Dowsers sometimes use nettles to increase the sensitivity in their hands. I always pick my nettles with bare hands and I quite like the tingling and the way it makes my hands more sensitive to the plants and the soil that I am working with. However, people who are prone to allergies should be careful and avoid direct exposure since the 'venom' also contains histamine, which can cause an allergic reaction.
Caution: Nettles intended for internal use (as food or medicine) should only be picked in spring,  (or, after the first cutting) as later in the year they start to accumulate an abundance of little crystals (called 'cystoliths'), which can be irritating to the digestive organs and the kidneys.
Once the nettles are brought home and cleaned under running water they can be put in a bowl and covered with hot water for about twenty minutes. This greatly reduces its stinging potential.
Recipes
In the 17th century, nettle pudding (not the sweet sort), nettle porridge and nettle soup were all common:
Nettle Pudding:
500 g fresh nettles

100 g butter

4 egg separated

2 cups bread crumbs
Wash 1 lb of nettle leaves pour boiling water over the nettles. Cream 100 g of butter with a little salt and pepper, 4 egg yolks, one onion cut fine and two cups of breadcrumbs. Add the nettles to this creamy mass. Beat the egg whites until stiff and carefully fold them into the doughy nettle mass. Pour into a buttered dish and cook in a double boiler for one hour.
Scottish Nettle Pudding
1-gallon young nettle tops
2 leeks
2 heads of broccoli
500 g rice
salt and pepper to taste
To 1 gallon of young Nettle tops, thoroughly washed, add 2 good-sized leeks or onions, 2 heads of broccoli, or small cabbage, or Brussels sprouts, and 1/4 lb. of rice. Clean the vegetables well; chop the broccoli and leeks and mix with the Nettles. Place all together in a muslin bag, alternately with the rice, and tie together tightly. Boil in salted water, long enough to cook the vegetables, the time varying according to the tenderness or otherwise of the greens. Serve with gravy or melted butter. These quantities are sufficient for six persons.
from 'Mrs Grieves, A Modern Herbal'
Country people would also make nettle beer, which was not only quite tasty and refreshing but also wholesome as a remedy for arthritic and gouty pains.
"…a pleasant country drink made of nettle-tops, dandelions, goosegrass, and ginger, boiled and strained. Brown sugar was added, and while still warm a slice of toasted bread, spread with yeast, was placed on top, and the whole kept warm for six or seven hours. Finally, the scum was removed, a teaspoon of cream of tartar was added and the beer was bottled."
Lesley Gordon, A Country Herbal
Nettle Beer
The Nettle Beer made by cottagers is often given to their old folk as a remedy for gouty and rheumatic pains, but apart from this purpose, it forms a pleasant drink. It may be made as follows: Take 2 gallons of cold water and a good pailful of washed young Nettle tops, add 3 or 4 large handfuls of Dandelion, the same of Clivers (Goosegrass) and 2 OZ. of bruised, whole ginger. Boil gently for 40 minutes, then strain and stir in 2 teacupsful of brown sugar. When lukewarm place on the top a slice of toasted bread, spread with 1 OZ. of compressed yeast, stirred till liquid with a teaspoonful of sugar. Keep it fairly warm for 6 or 7 hours, then remove the scum and stir in a tablespoonful of cream of tartar. Bottle and tie the corks securely. The result is a specially wholesome sort of ginger beer. The juice of 2 lemons may be substituted for the Dandelion and Clivers. Other herbs are often added to Nettles in the making of Herb Beer, such as Burdock, Meadowsweet, Avens Horehound, the combination making a refreshing summer drink.
Mrs. Grieves, A Modern Herbal 
Nettle Hair Rinse and Conditioner
Take a big handful of nettles and cover with cold water. Bring to the boil, cover and simmer for 15 minutes. Strain and allow to cool. Bottle and keep the liquid in a cool place (e.g. in the fridge). Use this liquid as a final rinse after washing your hair. Don't wash it out, but rather comb it out once the hair is dry.
Nettle is a very fibrous plant. Not too long ago it was actually planted as a fiber crop for making textiles, rope, and paper. The fibers must be separated and softened so they can be spun into yarn and woven into any kind of cloth. Nettle textiles are superior even to those made of hemp or flax. Nettles fibers are stronger than those of flax, yet they are not as harsh as hemp.
Some people claim that nettles act as an aphrodisiac and 'aid the venery'. For this use, the seeds are especially in demand.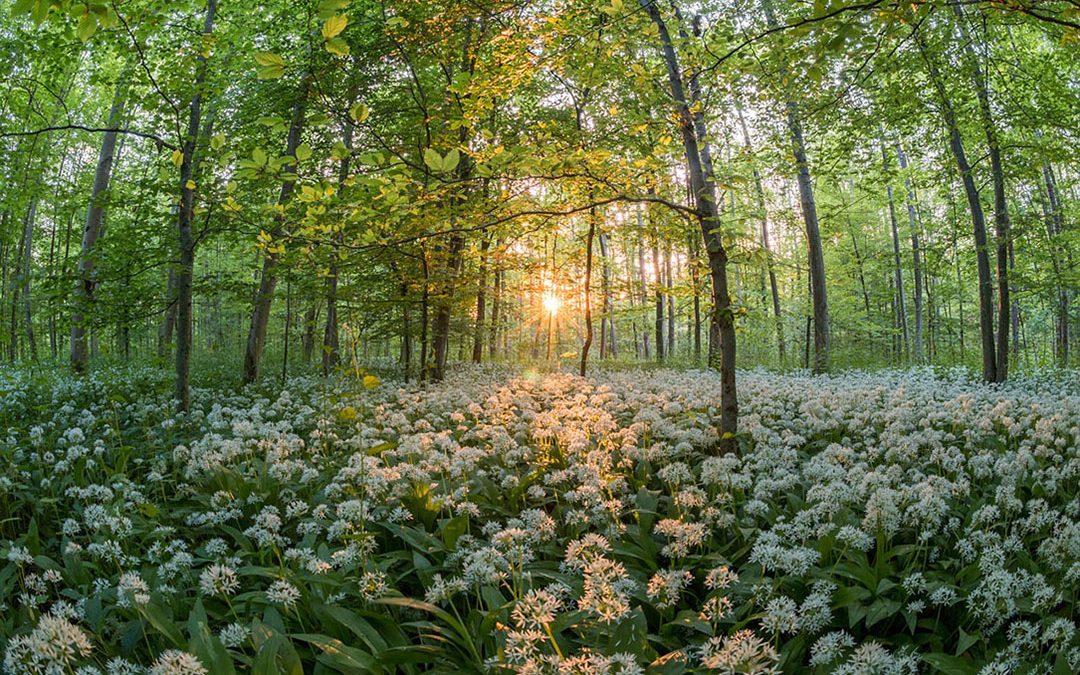 Foraging Wild Garlic (Allium ursinum)
The birds have been singing on the top of their lungs, announcing that finally and irrevocably spring is here at last. It came in with a blast of flowers that seemed to be popping up all at once, and now there is a veritable flood of petals both on the ground and in the trees. It is a lush and exuberant time – sheer bliss for any and all nature spirits. And it is incredibly hard to stay put, in front of a screen.
If you have been out there enjoying this blooming bliss, you might have noticed that in some parts of the woods there is a strong whiff of garlic lingering among the trees. You probably will have smelled it long before you discovered its likely source – a small but prolific plant, with broad leaves and a single flower stalk that rises from the centre and explodes into a white globe of star-like, little white flowers. You have discovered Ramsons (Allium ursinum), also known as 'wild garlic'. This is one of my favourite spring edibles – prolific, tasty, versatile and very healthy.
All parts of this plant are edible, but I usually only gather the leaves, in order to safeguard the wild stands of this herbal treasure. I also don't take the whole plant, but only some, preferably young leaves from each.
The medicinal value of wild garlic is similar to that of cultivated garlic. It is rich in vitamin C and iron and makes a great blood cleansing herb. Ramsons have a long history as a vitalising tonic spring herb. It can help alleviate arteriosclerosis and reduce high blood pressure. However, be aware that large quantities can have a drastic effect on the digestive system. Ramsons are no longer used medicinally, but if you let food be your medicines, as Hippocrates recommends, then make ample use of wild garlic as a great spring tonic.
CAUTION:
Be careful to wash the leaves very well. Growing so close to the ground and often near a stream, the ramsons can be contaminated the eggs of the fox tapeworm, which can be very harmful (even fatal) in humans. Fox tapeworm lodges in the liver or lungs, but can reside there undetected for years. Foragers can get regular check-ups for this infection. Although blood tests are not 100% accurate they may give some indication. If detected early the worm can be treated/operated upon successfully, but if left too late, it can destroy the liver. This safety warning applies to all herbs, berries and mushrooms that grow close to the ground, which exposes them more easily the faeces of an infected fox. The eggs are pretty durable in cool, damp conditions, but sensitive to heat and drying.
Note:
During the last decade, researchers have made some important new discoveries regarding drugs for the treatment of 'alveolar echinococcosis', the disease associated with fox tapeworm infestation. They found that some cancer drugs are quite promising as both diseases share some similarities. The treatment has become more efficient but it is not 100% perfect. Surgery remains the most effective option to date.
But I don't want to spoil your appetite or foraging passion. Infection rates are very low, even among people who spend a lot of time in the woods and have a passion for gathering from the wild. Drying or heating destroys most organisms. Just make sure to blanch the Ramsons leaves briefly, or at least, be sure to wash them VERY WELL.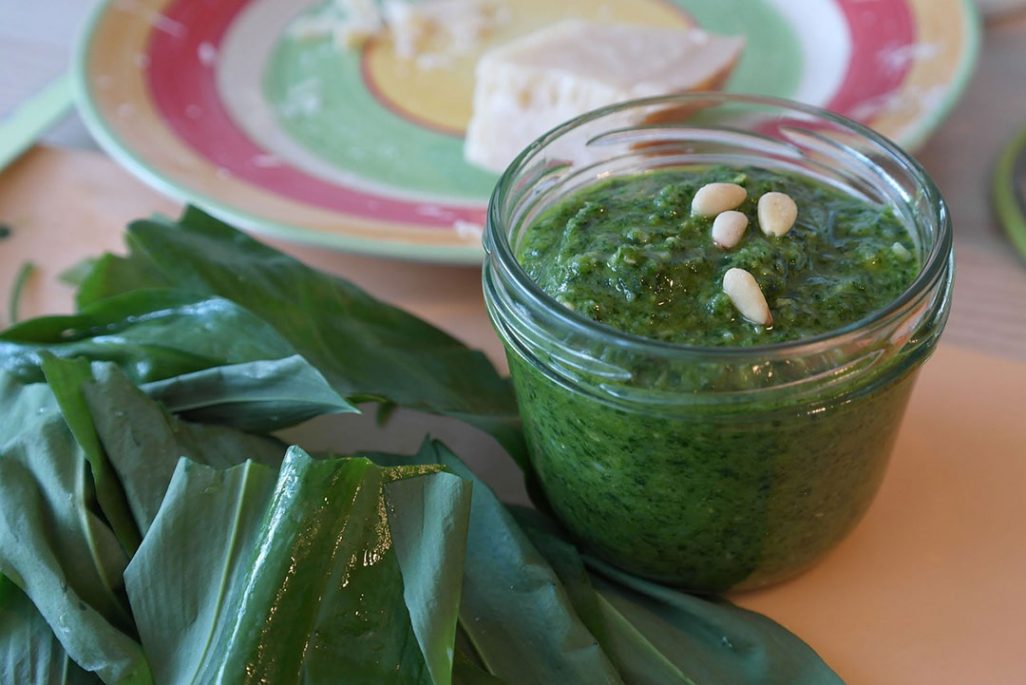 Recipes:
Ramsons Pesto
200g Ramsons Leaves

200g Basil Leaves

200g finely grated Parmesan cheese

150g Piñon nuts

Olive oil, salt to taste
Take the fresh, young Ramsons leaves and wash thoroughly. Briefly scald the Ramson leaves with boiling water. Take the same amount of fresh Basil leaves and place both in a blender. Cover with Olive oil and blend until smooth. Add 200g finely grated parmesan cheese and blend until smooth. Add some piñon nuts (or crushed walnut pieces).
This pesto is very versatile – you can stir it into freshly cooked pasta, blend with crumbly goats- or feta cheese, or, mixed with Ricotta, use as a stuffing for homemade ravioli, or blend it with cream cheese to make a tasty bread spread. I am sure you will come up with gazillion more tasty ideas!
Ramsons have a very strong flavour, which is why it might be a good idea to blend it with another herb. Basil works great, as the two complement each other well. Other herbs you can use are chickweed, dandelion leaves or lambs quarters. Sun-dried tomatoes marinated in oil also make an excellent addition to this pesto recipe.
Ramsons also complement fish dishes very well. Fish chowder with a few Ramsons leaves or bulbs thrown in is a delight. 
CAUTION:
Inexperienced foragers may confuse this plant with the poisonous Lily of the Valley, or Autumn Crocus leaves, which are also poisonous. However, Ramsons can be distinguished by the very distinctive, garlicky smell. If it doesn't smell like garlic it is not ramsons. Once the flower head appears, there is no mistaking them. Learn how to identify them correctly before the flowers appear as that is the best time to collect them. The bulbs can be collected after flowering when the leaves have died down.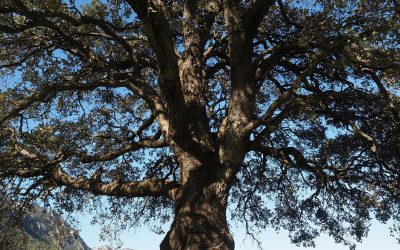 The characteristic scent of Camphor is familiar to anyone who has had a close encounter with VapoRub, but few have ever seen the pure, white crystalline substance from which the scent derives. Still, fewer are aware that this mysterious substance is entirely natural and comes from a tree that is native to southern China, southern Japan, and Taiwan. The Camphor Tree (Cinnamomum camphora) is closely related to the Cinnamon Tree, (Cinnamomum zeylanicum), with which it is sometimes confused. However, the unmistakable scent of the leaves immediately reveals its true identity.
read more