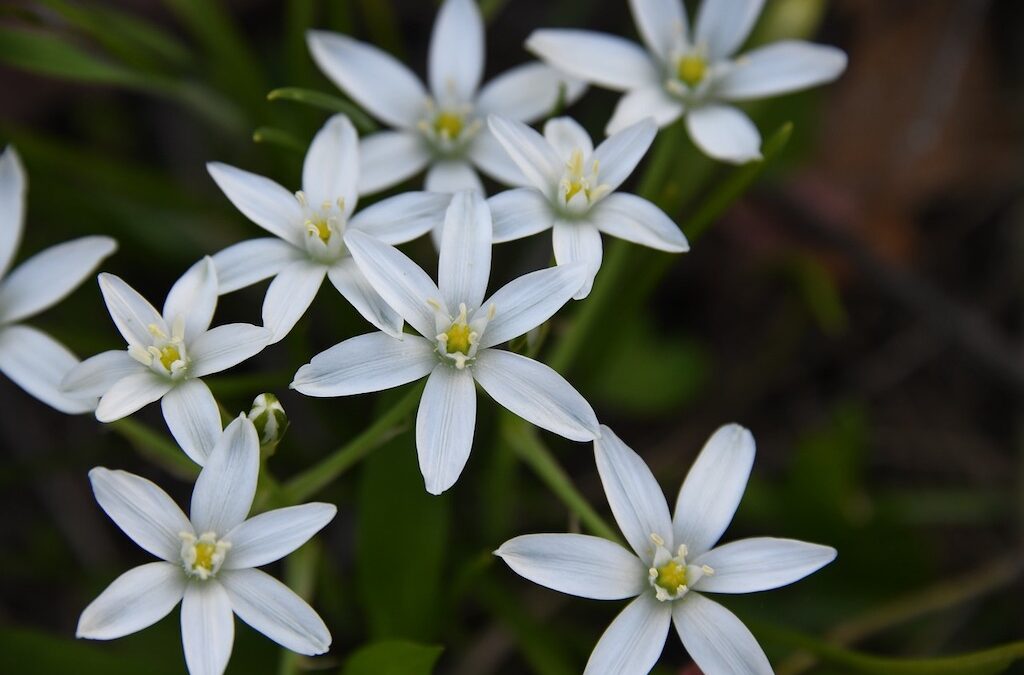 Plant Profile: Star of Bethlehem (Ornithogalum umbellatum)
Family: Liliacae /allium family
I recently took up nature journaling, and when I sat in the garden looking for a suitable motif, I suddenly noticed a Star of Bethlehem growing at my feet. I had seen them in the vineyards many times, but hadn't noticed them moving in with me. 
Apart from giving them a friendly nod, I had never paid much attention to them. As far as I knew, they were not used for food or medicine; but hang on – didn't Dr Bach revere this little flower and give it a prime spot as part of his Rescue Remedy formula?
I decided to take a closer look and dropped to my knees to study it in detail. I was immediately smitten by the Star's sublime beauty and unusual features.
What is the Star of Bethlehem?
Star of Bethlehem is a small perennial bulbous plant of the Lily family (Asparagaceae). Its leaves die back even as it begins to flower. After flowering, its energy retreats into the underground bulb. During the 'dormant' period, it produces little bulbils that send up their own narrow leaves early in the following spring. The Star of Bethlehem is thermoperiodic, meaning that it needs to go through a period of low temperatures before it begins to flower. 
The pretty, star-like flowers appear between April and June. The white petals have a green stripe on the underside that is only visible when the flower is closed. It looks as if the petal has fused with the sepal. But in fact, botanical descriptions of the plant say that the flower is composed of three identical sepals and petals, displayed in a single whorl. It is impossible to tell the difference, so botanists call them tepals. In the centre of the flower is a little crown of what looks like six white petals tipped by the pollen-bearing anthers. They enclose what looks like a little six-pointed star, from which the pistil protrudes.
Where does Star of Bethlehem grow?
You can find Star of Bethlehem growing in many places throughout Europe and North Africa. It arrived in the United States as a garden plant, which has naturalized to such an extent that the USDA now considers it a pesky weed.
Where did the name 'Star of Bethlehem' come from?
The origin of the name is attributed to various stories. The most obvious explanation is its widespread distribution in the Middle East and the Mediterranean Basin. Pilgrims on their way to Jerusalem carried the dried bulbs as food. (But fresh bulbs are reported as poisonous to cattle.) Another myth claims that the flower sprung from fragments of the Star of Bethlehem.
Is Star of Bethlehem known by any other names?
Indeed, it is, but none as charming. Star of Bethlehem is also known as Sleepy Dick, Nap-at-Noon, and even 'Dove Dung'. 
Nap-at-Noon alludes to the flower's habit of 'going to sleep' in the afternoon and on cloudy days. The name 'Dove Dung' seems a bit insulting, apparently implying that the white 'splash' of the Star resembles bird doo-doo. It doesn't, and in fact, it is not a reference to the supposed likeness. Instead, the name is a literal translation of the Latin name Ornithogalum, which means 'bird's milk', a common euphemism for avian excrement. The species name 'umbellatum' refers to the umbel-like flower.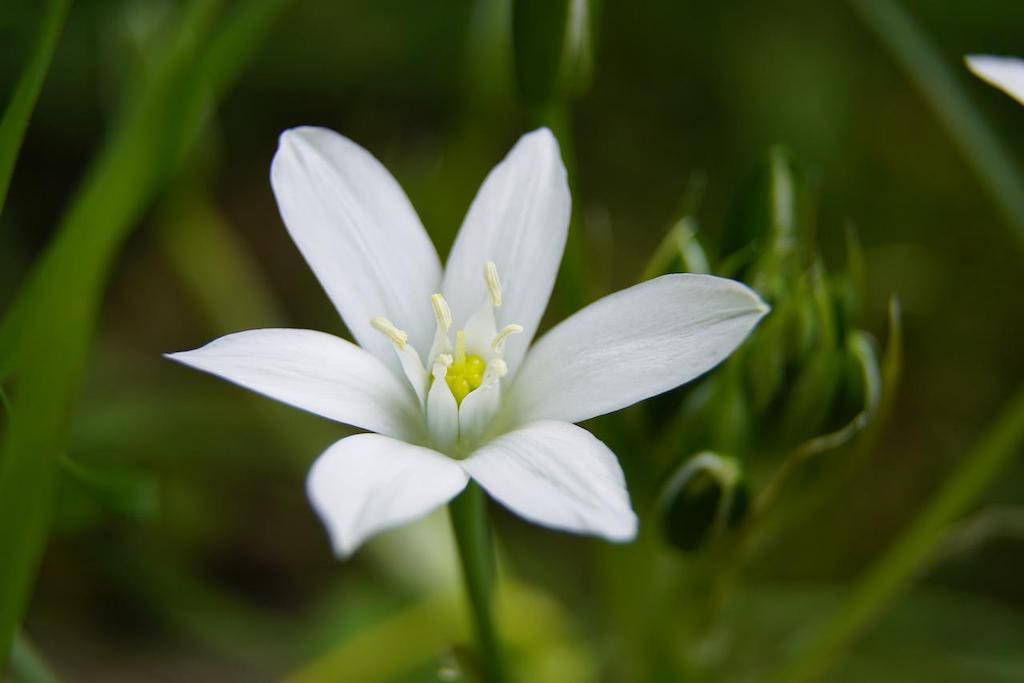 History
Gerard describes it as a type of wild onion and quotes Dioscurides, who mentioned that the bulbs are edible. Both the bulbs and the green parts are sold at markets in Turkey (Central, Bulancak) (1). Yet, they are also many sources that claim it is poisonous. So, what is the scoop?
Is Star of Bethlehem poisonous?
Biochemical research confirms that Star of Bethlehem contains cardioactive glycosides that are potentially toxic. But further investigation showed, that they do not survive being subjected to digestive juices, which would explain the controversy. An early study published by Arthur Vogelsang in 1961 notes that the effect of Star of Bethlehem is quite different depending on whether it is taken orally or injected. To test his hypothesis and confirm that the coating prevents the breakdown of the cardio-active compounds in the stomach. He compared Star of Bethlehem with Digitoxin and observed that its extract slowed the heart rate to a lesser degree than digitoxin while increasing the strength of the cardiac contraction and the excretion of body fluid. Star of Bethlehem also caused less nausea. Overall, Star of Bethlehem is a gentle yet highly effective heart drug that can be given to reduce blood pressure, strengthen the pulse and increase the discharge of excess fluid. It is particularly helpful for patients that do not tolerate digitoxin well.
Note of Caution:
The specific growing conditions, such as exposure to sunlight, water and soil type, change Star of Bethlehem's chemical composition.
Is Star of Bethlehem used homeopathically?
In Homeopathy, the Star of Bethlehem is known by its Latin name, Ornithogalum umbellatum. It is used to treat persistent gastrointestinal problems, such as upper abdominal pain in the epigastric (central abdominal) region, pressure, malignant tumours of the digestive tract accompanied by depression, and feeling drained and exhausted. It is also indicated for patients suffering from a state of nervous exhaustion with high sensitivity to all types of stimuli.
What are the indications for Star of Bethlehem Bach Flower Remedy?
For Dr Bach, Star of Bethlehem was one of the most treasured flower remedies. He used it as a go-to Trauma remedy to buffer the effects of shock, such as unexpected bad news, the sudden loss of a loved one, an accident or other traumatic event. It can also help when facing the pain of past traumata (PTSD). It is one of the essential components of Rescue Remedy.
Disclosure: As an Amazon Associate, I earn from qualifying purchases.
#Ads