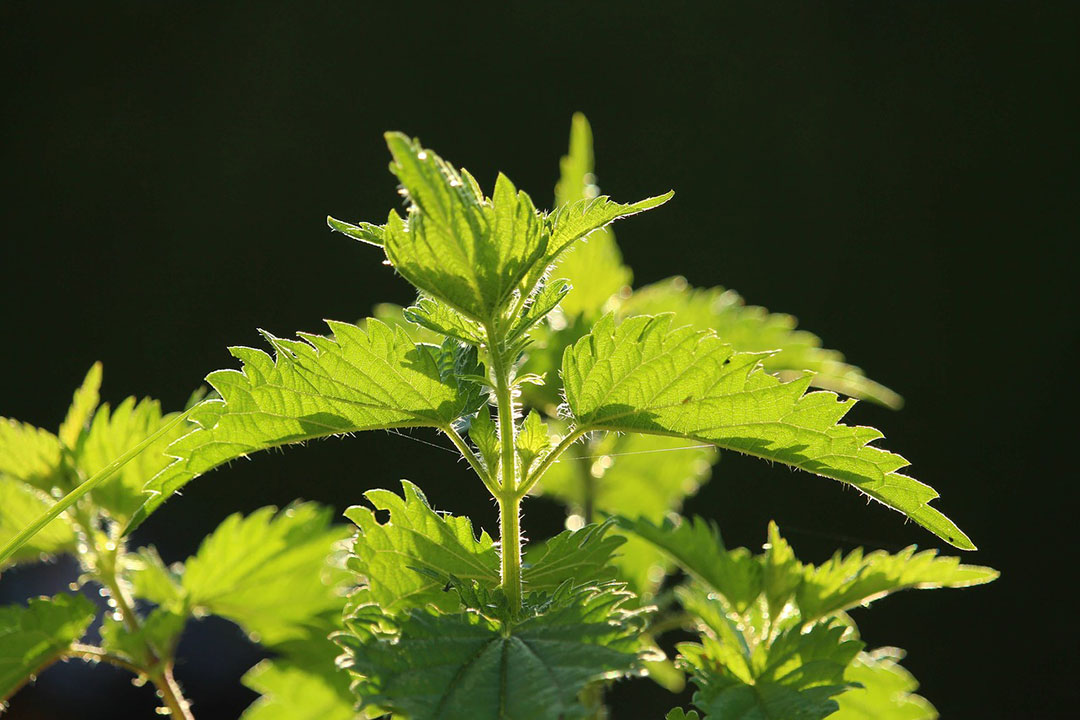 Foraging Stinging Nettles (Urtica dioica)
Few herbs are as generous as the humble stinging nettle. Inconspicuous, it assumes a modest corner in the garden: untended areas, half in the shade, perhaps near the compost where the soil is rich with nitrogen. Inconspicuous that is, until one happens to brush against it carelessly – which jolts our awareness rather painfully.
The Stinging Nettle is a warrior plant, armed with tiny needles that cover him from top to toe, leaves, stems and all. The lightest touch will break off the needle points, just like a hypodermic needle, and inject formic acid under the skin. This causes the sting.
But Nettles don't just protect themselves with this weaponry – they are extremely hardy and notoriously difficult to exterminate. Even concerted efforts fail to eradicate an established nettle patch. Nettles are earth defenders, they protect disturbed soils and assimilate nutrients. They cleanse and heal the earth and fend off intruders with their stinging needles.
They are often considered a nuisance. Nettles can spread like wildfire and their rhizomes are seemingly incorrigible. Even a tiny part left behind propagates a new colony. Gardeners tend to want to get rid of them by any means they can. They hack and hoe the ground to pull them out, leaving the soil bare and exposed to the elements. If that does not work, they wage a chemical attack on their garden ecology.
Nettles don't waste any energy on producing pretty flowers. But looks aren't everything. Even though they themselves don't smell or look particularly attractive, they make excellent companion plants, by helping their companion to shine. Nettles stimulate the essential oil production in other herbs that grow near them, especially in those of the mint family. Increased levels of essential oils help to make these plants more resilient.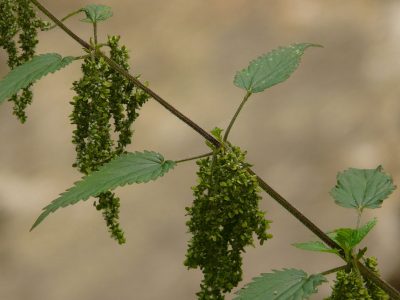 The much-feared sting may be unpleasant, but it is not necessarily 'bad'. The Romans used this very property as a therapeutic measure for treating aching arthritic joints by means of nettle flagellation. We don't tend to apply such heroic therapies anymore, although it is said to have been quite effective. Nowadays we prefer our medicines to come sugar-coated and looking like sweets.
In the olden days, Lent, which is the six week period leading up to Easter, was dedicated to body-purification. People abstained from meat and heavy foods while making use of early spring herbs that act as gentle tonics and bitters. These stimulate the eliminative functions of the body and help to clear out the residues of several months of sedentary winter habits: heavy foods and not enough exercise. It is a process that in older herbals is described as 'blood cleansing'.
Nettles are among the first herbs that pop up in the spring. Perfect timing for those who are planning to do a herbal spring cleanse. Nettles 'wash' the system from the inside. Their powerful diuretic properties stimulate the kidneys, which filter the blood and flush out metabolic waste matter such as uric acid crystals. A by-product of protein metabolism, these crystals tend to lodge in the joints, where they can become extremely painful.
Of all the wonderful early spring tonics Nettles is the star! They are rich in iron, calcium and vitamin A, C, D, E, F, and K. They stimulate and tone the vital organs of the body, promoting elimination without catharsis. They remove waste matter while replenishing the body with nutrients. They not only cleanse the blood, but their iron and vitamin C content also helps the body to make new blood cells.
This tea is very safe and can benefit anybody, though it is particularly beneficial for women who are going through hormonal changes, during puberty, menopause, or pregnancy. Nettles can also help to lower the blood sugar level, which makes them very suitable for those suffering from diabetes 2.
Nettles are not just medicinally useful, but they also make excellent nutritious and tasty wild food. They can be prepared like spinach or other leafy potherb greens. It is best to mix them with other spring herbs such a dandelion, or chickweed, or to add them to mashed potatoes or rice. They have a pleasant, 'earthy' flavor, that is adaptable to many dishes and seasonings. Your imagination is the limit.
So, what is the trick to picking nettles without being stung to bits?
The easiest way is to wear rubber gloves while picking and processing them. Or, grab the nettle with care and determination while avoiding accidental brushing. It does require some practice, but it works. Grabbing them hard crushes the needle points.
But most foragers have gotten used to a little stinging here and there. While at first, it can be annoying, once the burning sensation starts to subside the affected parts seem to become more sensitive to subtle energies. Dowsers sometimes use nettles to increase the sensitivity in their hands. I always pick my nettles with bare hands and I quite like the tingling and the way it makes my hands more sensitive to the plants and the soil that I am working with. However, people who are prone to allergies should be careful and avoid direct exposure since the 'venom' also contains histamine, which can cause an allergic reaction.
Caution: Nettles intended for internal use (as food or medicine) should only be picked in spring,  (or, after the first cutting) as later in the year they start to accumulate an abundance of little crystals (called 'cystoliths'), which can be irritating to the digestive organs and the kidneys.
Once the nettles are brought home and cleaned under running water they can be put in a bowl and covered with hot water for about twenty minutes. This greatly reduces its stinging potential.
Recipes
In the 17th century, nettle pudding (not the sweet sort), nettle porridge and nettle soup were all common:
Nettle Pudding:
500 g fresh nettles

100 g butter

4 egg separated

2 cups bread crumbs
Wash 1 lb of nettle leaves pour boiling water over the nettles. Cream 100 g of butter with a little salt and pepper, 4 egg yolks, one onion cut fine and two cups of breadcrumbs. Add the nettles to this creamy mass. Beat the egg whites until stiff and carefully fold them into the doughy nettle mass. Pour into a buttered dish and cook in a double boiler for one hour.
Scottish Nettle Pudding
1-gallon young nettle tops
2 leeks
2 heads of broccoli
500 g rice
salt and pepper to taste
To 1 gallon of young Nettle tops, thoroughly washed, add 2 good-sized leeks or onions, 2 heads of broccoli, or small cabbage, or Brussels sprouts, and 1/4 lb. of rice. Clean the vegetables well; chop the broccoli and leeks and mix with the Nettles. Place all together in a muslin bag, alternately with the rice, and tie together tightly. Boil in salted water, long enough to cook the vegetables, the time varying according to the tenderness or otherwise of the greens. Serve with gravy or melted butter. These quantities are sufficient for six persons.
from 'Mrs Grieves, A Modern Herbal'
Country people would also make nettle beer, which was not only quite tasty and refreshing but also wholesome as a remedy for arthritic and gouty pains.
"…a pleasant country drink made of nettle-tops, dandelions, goosegrass, and ginger, boiled and strained. Brown sugar was added, and while still warm a slice of toasted bread, spread with yeast, was placed on top, and the whole kept warm for six or seven hours. Finally, the scum was removed, a teaspoon of cream of tartar was added and the beer was bottled."
Lesley Gordon, A Country Herbal
Nettle Beer
The Nettle Beer made by cottagers is often given to their old folk as a remedy for gouty and rheumatic pains, but apart from this purpose, it forms a pleasant drink. It may be made as follows: Take 2 gallons of cold water and a good pailful of washed young Nettle tops, add 3 or 4 large handfuls of Dandelion, the same of Clivers (Goosegrass) and 2 OZ. of bruised, whole ginger. Boil gently for 40 minutes, then strain and stir in 2 teacupsful of brown sugar. When lukewarm place on the top a slice of toasted bread, spread with 1 OZ. of compressed yeast, stirred till liquid with a teaspoonful of sugar. Keep it fairly warm for 6 or 7 hours, then remove the scum and stir in a tablespoonful of cream of tartar. Bottle and tie the corks securely. The result is a specially wholesome sort of ginger beer. The juice of 2 lemons may be substituted for the Dandelion and Clivers. Other herbs are often added to Nettles in the making of Herb Beer, such as Burdock, Meadowsweet, Avens Horehound, the combination making a refreshing summer drink.
Mrs. Grieves, A Modern Herbal 
Nettle Hair Rinse and Conditioner
Take a big handful of nettles and cover with cold water. Bring to the boil, cover and simmer for 15 minutes. Strain and allow to cool. Bottle and keep the liquid in a cool place (e.g. in the fridge). Use this liquid as a final rinse after washing your hair. Don't wash it out, but rather comb it out once the hair is dry.
Nettle is a very fibrous plant. Not too long ago it was actually planted as a fiber crop for making textiles, rope, and paper. The fibers must be separated and softened so they can be spun into yarn and woven into any kind of cloth. Nettle textiles are superior even to those made of hemp or flax. Nettles fibers are stronger than those of flax, yet they are not as harsh as hemp.
Some people claim that nettles act as an aphrodisiac and 'aid the venery'. For this use, the seeds are especially in demand.
#Ads
Disclosure: As an Amazon Associate, I earn from qualifying purchases on Amazon and other affiliate sites.