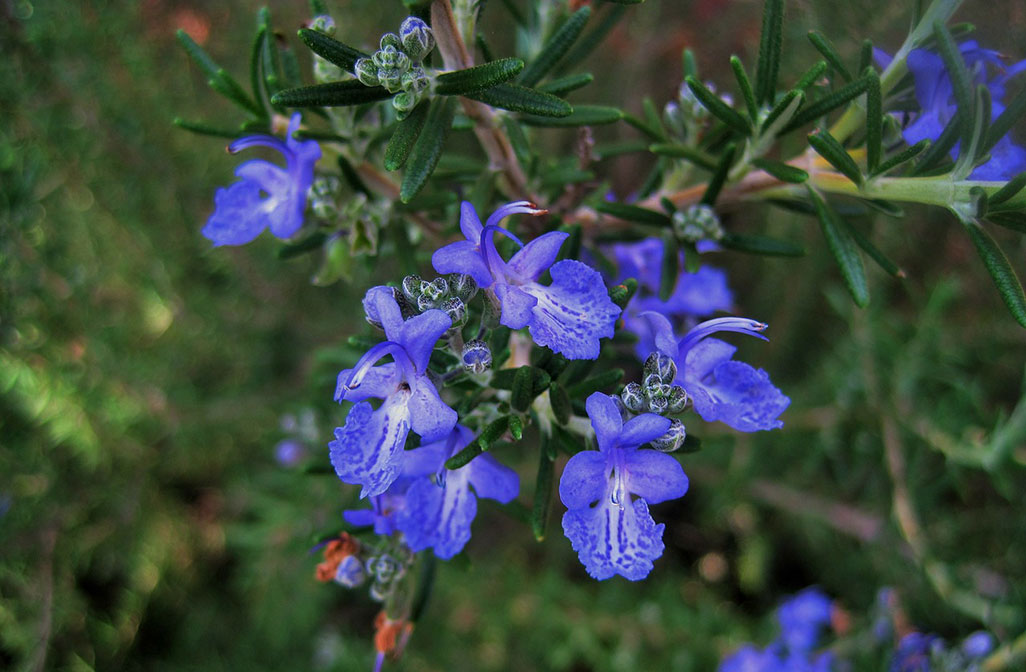 Rosemary, which has long been known as Rosmarinus officinalis, has recently been assigned to the Genus 'Salvia'. That means, it is botanically grouped with the sages. However, the old name is still acceptable, but it is good to be aware of the name change, to avoid confusion.
Most of us know this woody, aromatic bush as a culinary herb, but in fact, Rosemary is so much more than that. It has some quite remarkable properties that are well worth remembering!
As a kitchen herb, Rosemary is an old stand-by: Rosemary potatoes, Rosemary chicken, Rosemary salt, Rosemary lamb, or Rosemary fish are all familiar menu items.  The needle-like leaves have a highly aromatic, somewhat medicinal scent. The flavour is distinctive, somewhat bitter, and resinous, which perfectly complements fatty foods. It 'cuts through' the grease. This is why it is used to flavor greasy meat and fish dishes and to aid digestion. Rosemary acts as a token apology to the liver.
Although it is an herb of the mint family (Lamiaceae), its thin, spiky leaves lend it the appearance of some kind of dwarf conifer. Rosemary is at home in the semi-arid climate zone of the Mediterranean coastal region. It commonly grows in the garrigue, the shrubland that covers the lower hills. Its scientific name – 'rosmarinus' means 'Dew of the Sea'. It indicates that this herb likes to be 'kissed' by the salty mist coming in from the sea. Others have suggested that the name perhaps alludes to the light blue flowers. A bush that is profusely covered in flowers has the appearance of sea foam on the crest of a wave. Thus, Rosemary has also been linked to the Greek Goddess Aphrodite, who was born from the foam of the sea.
In the Mediterranean, it is one of the earliest flowers to appear in the New Year. Its pale blue flowers blush the wild coastal hillsides, spreading an aromatic scent that awakens the sleepy bees. Rich in nectar, Rosemary is one of their first sources of nourishment. The highly aromatic Rosemary honey is sold at local markets as a highly prized regional specialty.
Rosemary's intense fragrance and aromatic flavor are due to essential oils, which are obtained not from the flowers, but from the needle-like leaves. As a key ingredient of the ever-useful herb blend known as  'Herbes de Provençe' it is a quintessential item on the herb shelf.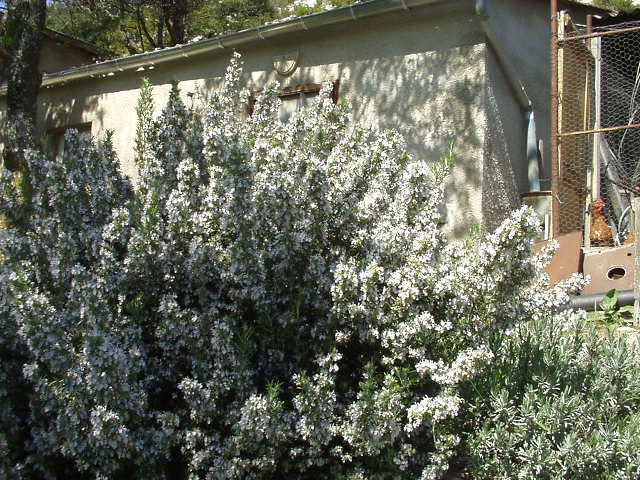 Medicinal uses of Rosemary
This essential oil is also responsible for its medicinal properties. Rosemary oil stimulates blood circulation, particularly to the head. It has a beneficial effect on memory. In herbal lore, this property is associated with the remembrance of loved ones, and friends, and those who have recently passed away.
Rosemary's bitter principle aids digestion. It 'warms' the stomach and stimulates the liver and gallbladder. It helps the body to break down fats and improve digestion.
It also shows anti-viral, anti-bacterial and anti-fungal properties. Externally, a Rosemary infusion can be used to cleanse badly healing wounds.
Cooking with Rosemary
Rosemary goes great with roasts – whether you are roasting a goose, lamb chops, or a pan full of root vegetables, a sprig of rosemary transforms the dish and adds a complex, slightly bitter and highly aromatic flavor.
Purification
Rosemary has also long been used as incense, particularly in combination with Juniper berries. This tradition has continued into modern times. It is still sometimes used to fumigate and purify the air in a patient's room. It is also popular as a cleansing aromatic that is used in sauna infusions, or to scent bath oils and soaps.
Restorative
Rosemary' is a tonic and restorative. Its stimulating action on the blood circulation and coronary function and can restore vitality and strength to convalescents or feeble children. In the past it was also used as an aphrodisiac that had the reputation to restore a dwindling manhood. Recent research has shown that Rosemary contains
Cosmetics
Rosemary can be added to home-made shampoos or hair rinses. It will stimulate the follicles and promote hair growth. In the 'still room,' its essence would have been added to skin tonics, lotions, and oils.
Rosemary Hair Rinse
The simplest way to let your hair benefit from the tonic power of Rosemary is to simply make a strong infusion of 1 tablespoon of dried rosemary leaves to 500 ml of water – infuse with boiling water and steep until it has cooled down, strain and massage into the scalp. Leave it for a few minutes, then rinse it out. It is best when prepared fresh, but it will keep for a few days in the fridge.
Rosemary Shampoo
Unscented shampoo bases are readily available at many stores these days. Get one you like and add a few drops of Rosemary Essential Oil to it.
Recommended for brown or dark hair as it will naturally darken the hair over time.