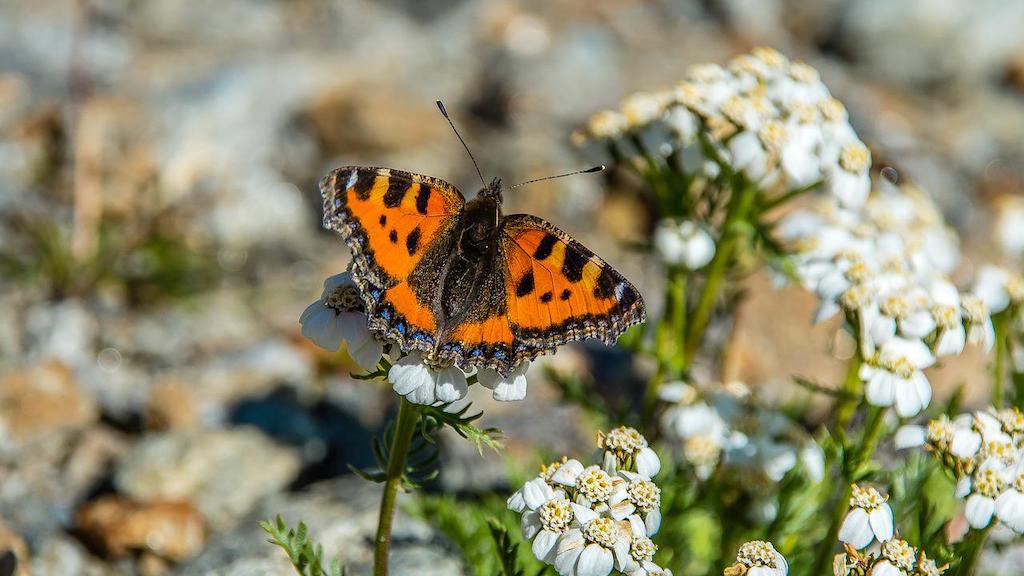 Yarrow is one of those herbs that everybody knows, but few know much ABOUT. A potent healing agent, this humble herb has a colourful history.
Description:
You might have noticed the Yarrow's feathery, fern-like leaves that appear in early spring. They stay snug and low to the ground on verges, meadows, pastures and waste places. Almost anywhere, really. Later, in the early summer, their stalks rise, and the soft leaves become tougher, almost prickly, even. In June, the first umbel-like flowering tops, a spread of tiny white, greyish or pink flowers suggesting a relationship with the carrot family. But they are faking it. Yarrow belongs to the daisy family, but you would never guess. You will have to take a close look to see why.
What appears to be individual, white-petalled flowers turn out to be composite flowers, like those of daisy or dandelion.
History and Mythology
Etymology – what's in a name
Yarrow's Scientific name is Achillea millefolium for the Greek hero Achilles, son of Peleus and the Sea-Nymph Thetis.
Knowing that Achilles was bound to become a warrior, Thetis wished to protect him by making him invincible by dipping the infant into the River Styx. But because she was afraid to completely let go of the child, the spot where she held him, his ankle, remained vulnerable. We all seem to have inherited this vulnerability, since we all have an Achilles tendon that is extra vulnerable to strain. Thetis also tried to make the child immortal, but Peleus walked in while she performed the fire ritual and 'saved' the child. But Thetis, fearing his vengeance, fled back to her father, leaving Achilles in Peleus' hands. But Peleus was not the kind of man who could raise a child alone. Thus, he sent him off to the famous centaur Chiron, who taught young boys the art of archery and healing.
Under his tutelage, Achilles became one of the greatest, *almost* invincible warriors who played a pivotal role in the war of Troy. But in the end, an arrow pierced his vulnerable heel, and Achilles succumbed to the wound.
History remembers Achilles as a gifted warrior and student of the healing arts, with Yarrow as his special ally. On the battlefield, he used Yarrow to save the lives of countless fellow warriors, for which Yarrow earned its other name, 'Militaris'.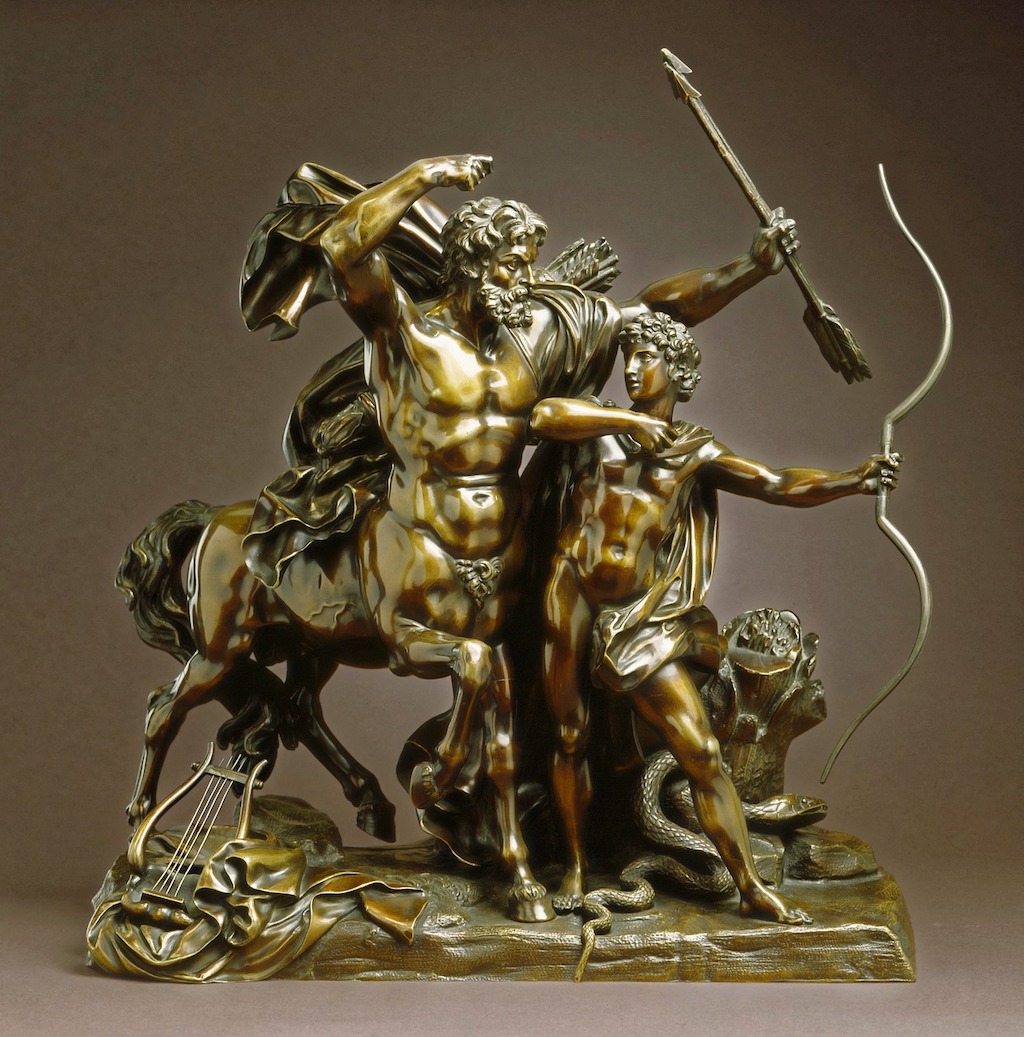 Herb Lore
Yarrow may look plain and ordinary, but it commands love and respect. Historically, potent herbs invariably played a prominent role in folk magic and medicine.
During the Middle Ages, when Christianity was steeped in superstition, Yarrow was used in exorcism rites to drive out evil spirits or even the devil.
In France, Yarrow is known as 'Herbe de St. Joseph'. According to the legend, the infant Jesus saved Joseph's life by bringing him Yarrow after Joseph had accidentally cut himself while doing his carpentry.
But in Britain, Yarrow was said to cause a nose bleed, as Mrs Grieves recalls. She tells of a bizarre divination ritual practised in eastern parts of the country. According to her tale, girls would stuff Yarrow leaves up their noses to determine whether 'their loves be true' while reciting the following verse:
"Yarroway, Yarroway bear a white blow
If my love, love me
my nose will bleed now…"
Yarrow was also called 'Venus Eyebrow' because its feathery leaves were thought to resemble them. No wonder the herb was used to divine matters of the heart.
Stuffed into a pouch and placed underneath the pillow, it was supposed to induce dreams of one's future husband after reciting the following charm before dozing off:
"Thou pretty herb of Venus tree
Thy true name be Yarrow
Now who my bosom friend must be
Pray, tell thou me tomorrow."
In China, Yarrow is also used for divination. But here, the practice is of quite a different order. Yarrow sticks are traditionally used to cast the I Ching. Yarrow is used because it is said to represent a perfect balance of the Yin and Yang forces of the Universe.
On the continent, Yarrow is added to the traditional '9-herb soup', served on Maundy Thursday, the Thursday before Easter. It is meant to purify the spirit, vitalize the body, and ward off all disease and evil influences for the rest of the year.
Later in the year, Yarrow plays a quintessential role in the celebrations of Maria Ascension Day as part of the 'herbal bundles', that are blessed on that day. The tradition predates Christianity, but the Church sanctioned it after it failed to suppress the practice, and in rural areas, it is still very much alive.
Food Uses
In spring, the fresh, soft, young Yarrow leaves impart a lovely, aromatic flavour to soups and salads.
Later it becomes more bitter, which makes it suitable as a brewer's herb. Although in Germany, beer brewing was regulated in 1516, and only hops were allowed as a flavouring agent, the laws were more permissive in Britain, Various bitter aromatics were used to create different flavours and effects. Yarrow was an ingredient of 'Gruit beer', a strong herbal ale popular at the time and more potent than regular beer.
Essential oil
Distilling Yarrow yields a vividly blue essential oil, as the process converts pro-azulene into Chamazulene. The same compound is also responsible for the blue colour of German Chamomile Essential Oil. Of these, Yarrow yields more of this powerfully anti-inflammatory compound. It is used to treat irregular and painful menses and to reduce excessive menstrual bleeding. Its anti-inflammatory and antiseptic properties make Yarrow essential oil a potent ingredient for lotions and crèmes to soothe skin rashes, sores, and inflammatory acne.
Energetically, Yarrow is a balancing herb. It can help to alleviate hormone-induced emotional disquiet related to PMT or menopausal turmoil. It is suitable for chakra balancing, as its sensory vibration supports the organism's need to re-establish equilibrium and overcome conflicting emotions.
Medicinal Uses:
As a herbal ally and remedy, Yarrow is as popular as ever.
Parts used: Aerial parts, young leaves, and flowers.
Harvest the young leaves in early spring, when they are still soft little fronds, if you want to use them fresh in soups and salads. Later in the season, collect the aerial parts, leaves and flowers and dry them for later use. Leaves and flowers can be harvested until July/August, Yarrow's peak flowering season.
Constituents:
Flavonoids, volatile oils, tannins, a bitter glycoalkaloid,
Applications
Yarrow's anti-inflammatory, antiseptic and astringent properties make it a formidable wound herb. The fresh juice or dried powder can be applied directly to staunch a bleeding or seeping wound. Made into a strong infusion, it can reduce internal bleeding and promote healing of inner wounds, e.g. after surgery. As a wash, it calms swollen tissue and heals inflammatory skin, cuts, and open wounds.
As a tea, Yarrow also acts as a soothing relaxant on the voluntary nervous system. It calms cramps and spasms of the stomach, abdomen and womb. Its bitter principles support the digestive system by stimulating the gallbladder and liver. Yarrow also supports the urinary system. It is an effective anti-inflammatory and diuretic, which can soothe urinary infections such as cystitis.
Yarrow is an excellent women's herb that can bring on delayed menstruation, soothe painful periods and menstrual cramps, and reduce excessive bleeding.
The fresh juice makes a potent tonic. Yarrow dilates the blood vessels and improves peripheral circulation. It can be used to address high blood pressure issues and angina pectoris.
Yarrow is also an effective febrifuge that opens the pores and promotes sweating. Taken before entering a sauna or sweat lodge, it promotes inner cleansing.
Yarrow's cleansing and toning properties, combined with its anti-inflammatory powers, explain why it can be so helpful for treating rheumatism. Yarrow can be understood as a tonic and alterative that improves the overall function of the whole organism. Combined with other specifics, it can also be used to treat acute inflammatory conditions.
Caution:
Some people are allergic to plants belonging to the daisy family. If you are one of them, please test for sensitivity to Yarrow before using it as a wild food ingredient or herbal remedy.