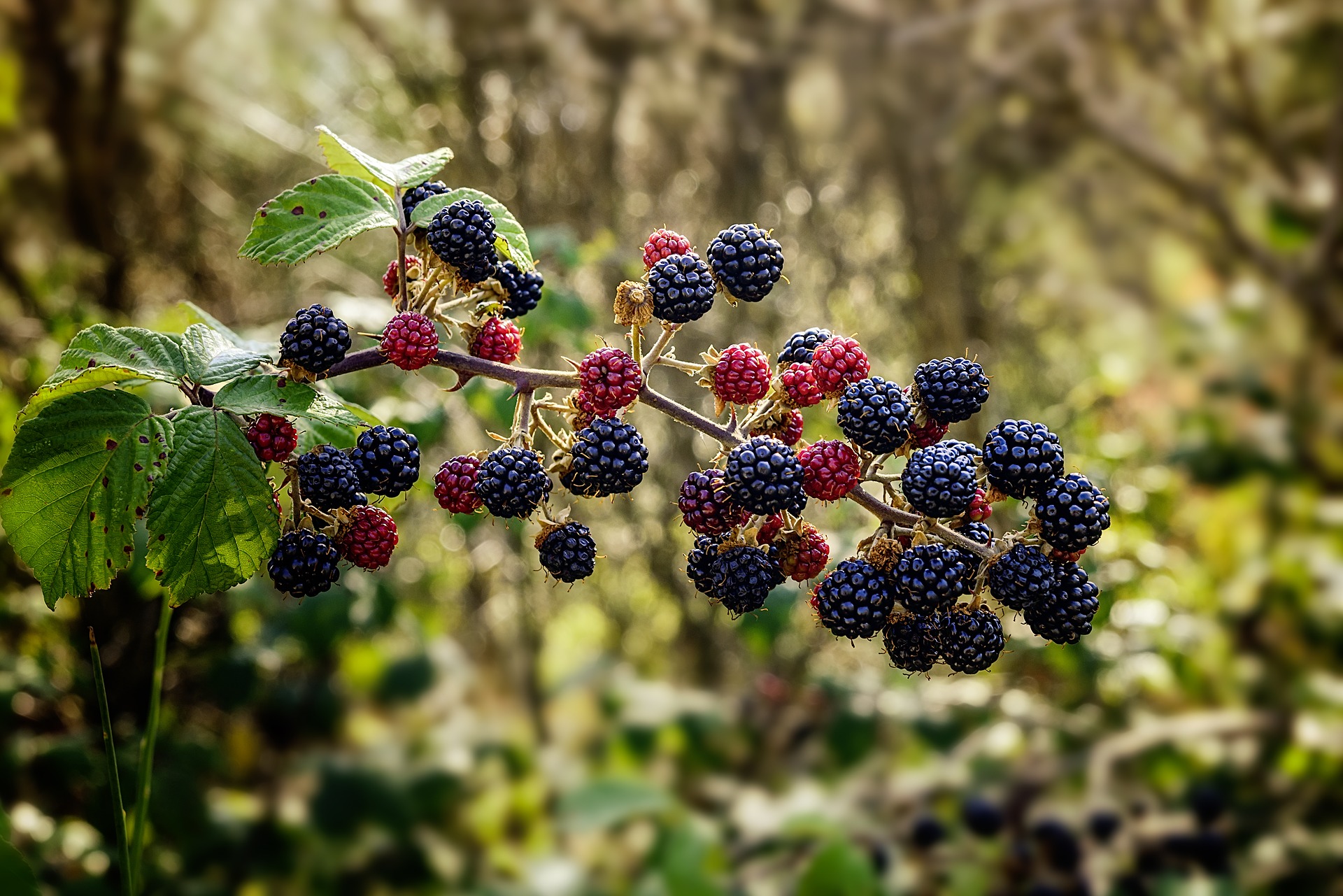 Autumn equinox always arrives with a shock: summer is over, winter is on the approach! How can that be? It seems only such a short while ago that we laughed and played in the summer sun! But all too soon I hear the equinox winds hurling outside my window and watch dark, ominous clouds chasing each other across the sky. I sigh. The last of the foraging days are just around the corner. From now until Samhain or All Saints Day, a flurry of activity lies ahead: I will be gathering mushrooms, berries, and nuts to fill the winter larder.
Strawberries, raspberries, red currents – berry season is already over. Almost – except for one! A sweet reminder of the summer days will take us to the threshold of winter: the lowly Blackberry (aka Bramble). How we curse it in spring and summer when we find our passage across a field blocked by its dangling thorny limbs, when its barbs tear our clothes, tangle our hair, or scratch our skin! When bramble blocks the way it means business. Although it is not impossible to overcome, most will choose an easier route than to engage in direct combat.
Yet, who can resist the sweet berries once summer is over? From the end of August to the beginning of November Bramble bestows a seemingly inexhaustible harvest. Rows of jam jars that line the larder are abundant proof.
Bramble is extremely undemanding. It pops up just about anywhere and is often cursed as a weed. But, like many other so-called weeds, it bears a precious secret.
Blackberries highly nutritious and rich in vitamins, especially Vitamin C and A, and K, as well as in minerals, especially manganese and fibre. They also contain flavonoids and tannins, which means that they are not only delicious fieldfare or raw material for jams, but can also be used medicinally.
The tannins act as an astringent. Medicinally Blackberries (as well as the Blackberry leaves, picked in spring) can be used to tighten the gums and to inhibit bleeding. It makes a good remedy for the upset tummies of small children, can arrest diarrhoea, settle a nervous stomach and even soothe a stomach-flu.
The leaves can be brewed like tea. Sometimes they are mixed with raspberry and strawberry leaves to make a refreshing general-purpose household tea. Their diuretic and diaphoretic properties useful in a blood cleansing tea and help to reduce a fever.
Extremely valuable is their ability to lower blood sugar levels, which would commend them to diabetics as an alternative to regular tea or coffee. The leaves are also astringent and can be used as a gargle to soothe a sore throat. The berries or their juice are beneficial for treating hoarseness. Singers and speakers should make ample use of this freely available and effective remedy.
On a more spiritual note, the lowly Blackberry flower has an honoured place among Dr. Bach's flower essences. He saw it as a remedy for confusion. Bramble essence is said to help one realise the 'essential truth' or underlying pattern of a situation and is thought to assist in finding solutions to a problem, bring about mental clarity, and to aid concentration and memory.
Recipes
As blackberries are so commonly found in the hedgerows there are a plethora of recipes for cordials, jams, jellies, ice cream, mousse, pies, chutneys, and tons more. I prefer the fresh berries straight off the vine with just a little cream, but here are another couple of favourites: 
Apple and Blackberry Crumble:
Filling
3 Large cooking apples

1lb Blackberries

5oz Sugar or Honey

Cinnamon

Lemon

½ oz Butter
Crust
2 oz Butter

2 oz Rolled oats

2 oz Flour

1 oz Walnuts (crushed)

1 oz Sugar or Honey

Preheat the oven to 200C/400F
Peel and cut the apples into small chunks. Melt the butter and stir in the sugar and cinnamon. Cook until it carmelises, stirring frequently. After about 5 min add the apple pieces, lemon, and walnuts. Cook until the apples are getting soft.
Prepare the crumble topping by rubbing the softened butter, sugar, flour, and oats into a crumbly mixture.
Take the apples off the heat and add the blackberries. Stir in gently. Transfer the filling into a shallow ovenproof casserole and sprinkle the crumble topping on top. Bake for about 20 minutes at about 180°C or 350°F until the topping turns a light golden brown.
Serve with vanilla ice cream.
Blackberry Cornbread
2 cups white cornmeal
¼ tsp. soda
¼ tsp. salt
1 cup buttermilk
1 egg
1 cup maple syrup
1 ½ cup blackberries
Mix cornmeal, soda, salt, buttermilk, egg in a medium-sized mixing bowl; stir well. Add maple syrup, stir well. Add blackberries, stir into the mixture without mashing them. Pour into a well-greased iron skillet and bake slowly at 350°F/180°C until top begins to brown. Reduce heat to 200°F/100°C until cooked.