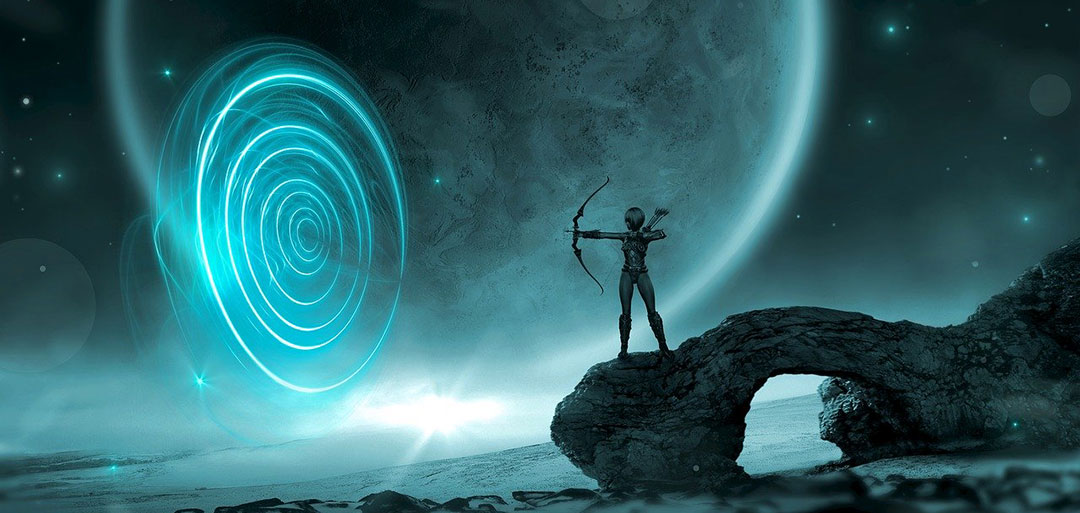 When one year comes to a close and another one comes around, it always feels like the beginning of a new chapter. Although just a date in the calendar, it represents a threshold. At such times many of us feel inspired to aim and focus on new goals, whether it be giving up a bad habit or implementing a positive new one. We make a list of intentions of long-term, medium-term and short term goals. Whatever they are, there is a record.
On the other hand, there are those who think, 'why bother? I'll break them anyway!'. The road to hell starts with good intentions, or so they say. But it would the road lead there with or without intentions? Perhaps, but without the guilt, one might say. But is that a reason to not even try? 
The date may seem arbitrary, but nevertheless, consciously marking a threshold to initiate change is a powerful symbolic act – if you mean it. But why should you?
It is better to aim high and miss than never to aim and shoot at all. 

We often regret the things we never tried more than the ones we did try, but failed at. 
At the core of setting intentions is actually some pretty powerful stuff! One could call it magic – the art of bringing about change in accordance with the conscious will.  The underlying idea is that our situation in life is not predetermined, that it is possible to bring about change, both internally and externally. 
Among the typical things that people tend to put on their list of good intentions are items like 'lose weight', 'stop smoking', 'go to the gym' etc.
But how about using this 'magic moment' to bring about change for the better not just within the personal sphere, but to also consider how your actions and habits impact the world around you? How are your inner values and outer actions aligned? If you could change something in your environment, what would that be?  And what is within your power to do something about it?
We may not be able to change the whole world, but we are capable of changing OUR world. That change starts with oneself. And when we stop to think about it, we will soon realize the ripple effect that our actions can have. What we do, or don't do can have great implications that are far removed from our direct sphere of experience.
 'Be the change you want to see in the world'
To be sure, this is not as easy as it sounds. It requires a certain amount of self-awareness. If we want to see less plastic in the world, we can start by using less of it. If we want to see more organic produce, we can buy more of it. If we want more sustainable sources of energy, we can switch to a provider that offers it, etc. That is the base-line. It starts with our own actions. The great thing about it? Everybody holds the power to affect this type of change right in their own hands. 
It all starts with sitting down to reflect on what kind of person we want to be and what kind of world we want to live in.  It starts with a vision of possibility.
One of the big issues that have been bothering me recently is all the plastic in the world. It is truly abominable to contemplate the amount of garbage that we have produced in the last few decades (and are still producing) and how this stuff is now coming back to haunt us – as microplastics in our food, in the landfills full of toxic trash and in the silent suffering and death of fellow species that are constantly found with their stomachs full of our plastic garbage. I am ashamed as a human being. I do not want this suffering, I do not want the earth to become toxic in this way. To bring my inner values in alignment with my outer habits, it would require giving up plastics altogether. Sadly that is pretty much impossible in our modern world. But, I am making a commitment to reducing my use of plastics as drastically as I can. I can try to make non-plastic choices when I go shopping, refuse bags, don't buy takeaways that come in plastics etc. It is of course not nearly enough to stem the tide. But it is a small start – and every journey must start with the first step.
I also set goals for myself – to care better for my websites and by extension, for my readers. That too takes time and commitment, but I am hoping that this channel of communication – the only one I have – is bringing enjoyment and maybe even inspiration to some of my readers. And it gives me the joy to be able to communicate with 'the world out there – or at least that small section that has found its way to my pages, on their journey through the cyber jungle. I know there are a lot of pages out there by now, so I truly appreciate you stopping by!
But nothing would happen if I did not make a firm commitment to these intentions. The magic of intentions only happens when they are focused,  and followed by action. And they also need a driving force. For me, that force is love. Love for Mother Earth, and for my fellow-creatures, whether human, animal or plant.