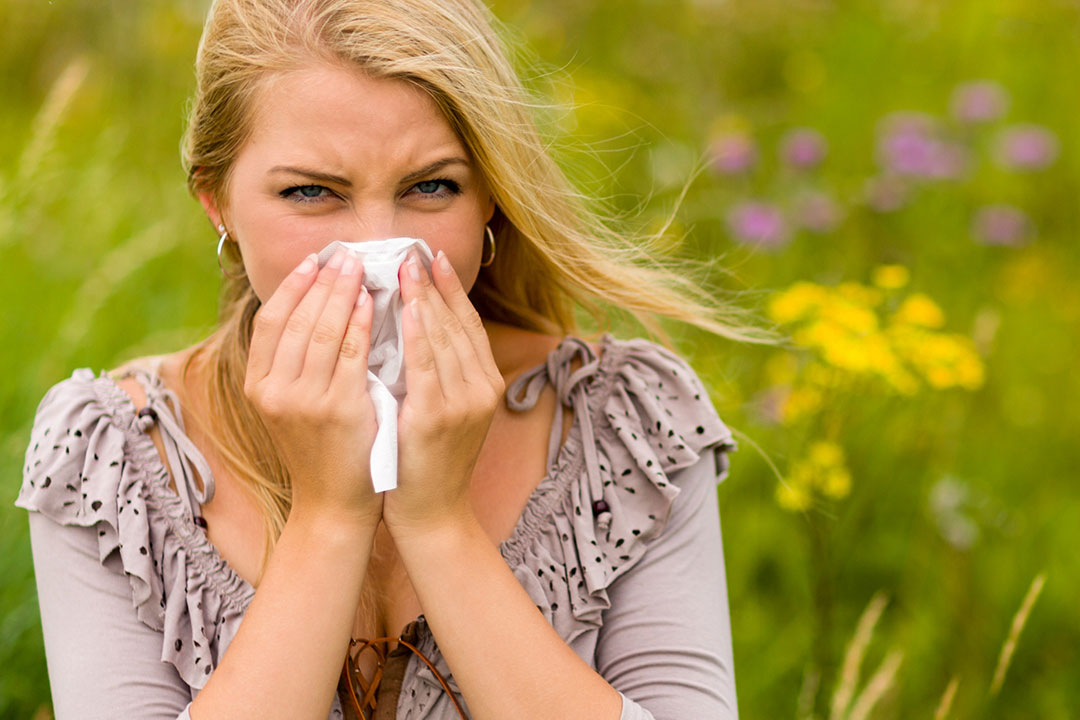 If you happen to be one of the many unfortunate people who suffer from hay-fever, you are probably not so well pleased with the arrival of spring. Pollen laden air can be the source of misery and much discomfort that may last for weeks or months. Violent sneezing fits, asthma attacks, sinus headaches, itchy eyes, a runny nose, wheezing, and coughing are all common symptoms of this seasonal bane.

Hay-fever is not a novel source of trouble, yet there is very little solid knowledge regarding its underlying causes and treatment options. The easiest explanation is, of course, that pollen grains are little protein packages, which can cause the human body to simply overreact when it encounters them via the nasal passages. But why this should be so, nobody really knows. The fact is that autoimmune diseases like allergies and hay-fever, as well as food sensitivities, have become far more common in recent years than they used to be. The notion that environmental factors, such as commonly used agrochemicals are to blame, is a speculative theory, but it is as plausible as any.
Whatever the causes may be, what interests most sufferers is how to deal with the symptoms or better still, how to prevent them. Allopathic medicine recommends anti-histamines, which are chemicals that block the histamine receptors in the body, thus suppressing allergic reactions. Despite the fact that it can produce many unpleasant side-effects including drowsiness, dry throat, nausea, and even an irregular heartbeat, it is frequently the first line of defense.
It is not easy to tackle hay-fever preventatively. However, supporting the immune system gives the body a better chance to deal with it. Vitamin C and zinc may be helpful. A cup of Dandelion tea in the morning and Lime flower (Tilia sp.) tea with a few drops of lemon juice in the evening is an old home remedy. Reducing mucus-forming foods and increasing the number of fresh fruits and salads in the diet increases the fortifying vitamin supply and also helps to reduce the potential catarrhal congestion. Nettle leaf (Urtica dioica) extract, tea or tincture is also said to be helpful. For best results, it is recommended to start taking a regular dose about a month before symptoms are expected to set in.
Once the attack sets in, it is best to treat symptoms specifically and topically. Chamomile (Matricaria chamomila) and Elderflower (Sambucus nigra) are effective anti-inflammatories. Taken with lemon juice, honey and a pinch of Ginger or Cayenne, adds decongestant properties.
Steam inhalations
Also very helpful are steam inhalations. A Chamomile steam bath clears the upper respiratory system and soothes the mucous membranes. A little Eucalyptus oil added to the steaming pan helps to clear the head and lungs. A facial steam bath is easy to prepare. Just take a handful of Chamomile flowers and place them in a bowl. Add boiling hot water and cover yourself and the bowl with a big towel or blanket and inhale the steam until the steam-bath cools down. This performance can be repeated several times a day as necessary.
Eyewash
To soothe itchy, red and sore eyes make an infusion with herbs such as Fennel (Foeniculum vulgare), Chamomile (Matricaria chamomila), Elder (Sambucus nigra) and Eyebright (Euphrasia Officinalis). Allow it to cool down and use an eyewash cup to rinse each eye. This can be repeated as necessary. The tea will keep at least 24 hours if kept in the fridge.
Lung decongestants
If the problem is concentrated in the lungs herbs such as Elecampane (Inula helenium), Coltsfoot (Tussilago farfara), Mullein (Verbascum thapsus) and Lungwort (Pulmonaria Officinalis.
Essential Oils
Essential oils can be used as 'atmospheric remedies'. If you have an oil-burner, fill the well with water and add a drop or two of essential oil. The heat (electric or candle) diffuses the essential oil throughout the room. Essential oils of Eucalyptus (Eucalyptus globulus), Lavender (Lavendula sp.), Cedarwood Atlas (Cedrus atlantica) and Pine (Pinus sylvestris) are especially useful.
Honey
Raw, unprocessed LOCAL honey or LOCAL bee pollen are sometimes recommended as a preventative measure. Starting early in the spring with a dose of 1 large tablespoon per day is said to reduce sensitivity to the pollen allergens
Homeopathy
Based on the theory of 'Similia Similibus Curentur', or 'let likes cure likes' homeopathy believes in treating symptoms with a substance that in a healthy person would produce such the same such symptoms.
It therefore works best if the symptom complex corresponds very closely with the remedy. Consult with a qualified homeopath to determine which remedy might be the most appropriate for a specific case.
That being said, these are the most commonly used homeopathic remedies for hay-fever symptoms include:
Allium cepa
When mucous is watery and accompanied by sneezing and a tickling cough.
Arsenicum album
When a wheezy cough and swelling beneath the eyes are accompanied by a sense of stuffiness and watery mucous.

Euphrasia
When symptoms concentrate in the eyes, with swelling, itching, and discharge.
Ferrum phosphoricum
This might be the most useful 'preventative' homeopathic remedy for hay-fever, as it can stop symptoms from developing when taken early on. Symptoms include runny nose and eyes, facial flushing and a tickling cough.
Gelsemium
If symptoms are more akin to a summer flu, with tiredness, drowsiness, aching back and neck along with chills, runny nose and swollen mucous membranes this remedy might be indicated.
Nux vomica
This remedy might bring relief when symptoms alternate between a stuffed up nose and running mucous, accompanied by an irritable cough, sore, tickling throat and headache.
Sabadilla
When there are relentless, long lasting sneezing fits with itching nose and eyes, runny mucous and a lump in the throat this remedy may be indicated.
Homeopathic remedies don't work well in combination with certain other substances, like coffee, cigarettes, and menthol, e.g. peppermint or eucalyptus, which are often present in toothpaste and chewing gums. They also would not work well in combination with the essential oils mentioned above.
Disclaimer: the information given in these pages is for educational purposes only. It should not be used for diagnostic purposes and nor should it replace a visit to a doctor or health practitioner.