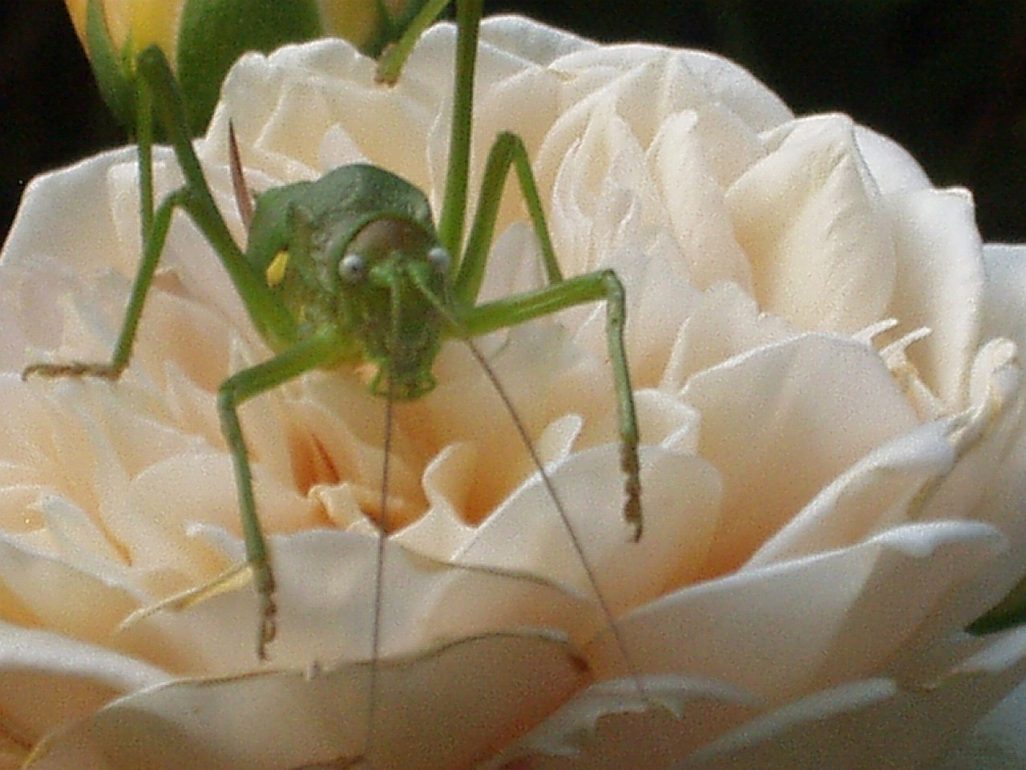 .'"But he that dares not grasp the thorn, should never crave the rose." – 

Anne Bronte
It is almost superfluous to describe such a well-known and much-loved plant as the rose. Everybody knows and loves the thorny, but beautiful rose, although we are most familiar with the cultivated varieties. They have come to be recognized as an almost universal symbol of love and adoration.
Description:
Wild roses can be found in every hedgerow. But they are a much humbler breed. There are about 150 species of wild roses that mostly occur as shrubs and climbers. They are at home in the northern hemisphere. Wild rose species can be recognized by their fragile flowers consisting of 5, quite large white or pinkish petals that guard a profusion of yellow stamen in their center.
By contrast, cultivated varieties can take on many different flowering patterns and color variations – they come large or small, with packed or single flowers, scented or unscented, and in almost every shade of color from burgundy red (almost black) to pink, yellow and white.
Wild Rose shrubs can grow as low as 80 cm or climb some 30m high, sprawling over other plants and trees. They are prickly fellows and although the thorns of natural varieties tend to be much finer than those of the hybrids, they are no less sharp.
The leaves tend to be pinnate, with stalked, ovate leaflets, and finely toothed margins. The stems and leaves bear thorns.
In autumn, they produce bright red, pear-shaped seed-capsules with a hard, thin, outer skin. Their center is filled with small triangular seeds that are embedded in a cozy nest of scratchy fluff, which children utilize as 'itching powder'. These fruits are known as 'rose hips', famous as a rich source of vitamin C.
Ecology:
Wild roses are not as picky as their cultivated cousins. They grow in open woodland, fields, and heaths, or even on dunes and sandy soil. Their thorny bendy bows provide effective shelter for small animals. It's a habitat with a built-in security system. The thorns effectively ward off predators and human intruders. They are often planted in the hedgerows and provide winter nourishment for many birds and small animals. They are not so keen on the hard shells, but once the frost has bit the hips the cortex turns soft and more palatable for the little critters. Thus, bright red hips can often be seen to adorn otherwise bare hedges, even in the midst of winter. Rose-hips are not a 'snack-fruit, but the rich content of vitamin C makes them very valuable to humans as well.
Distribution:
Wild roses occur naturally throughout the temperate regions of the northern hemisphere, from China to North America. However, Asia boasts the greatest species variety.
History & Mythology
Roses are most famous as a universal symbol of love. And most of the ancient stories focus on the old cultivated varieties. Rosa gallica, a deep red, fragrant flower, also known as 'Provins Rose' has garnered most of the attention. (It has been named after a small town near Paris, France, which was once was a center of Rose cultivation and trade, not to be confused with 'Provence', a region in southern France famous for perfumery and vast Lavender fields).
For some reason, the humble rose has long inspired horticultural passions. It has been under cultivation since ancient times (at least since 3000 BC), which makes it extremely difficult to trace the family tree of a specific variety.
Roses were among the first plants (if not THE first plant) that were grown for their beauty's sake alone, a practice that flourished in Asia and the Middle East long before such a thing had ever been heard of in Europe. A garden surrounded by fragrant roses was the epitome of sanctity – it was seen as an earthly representation of the Garden of Eden itself. Thus, roses adorned the patios and pleasure gardens of palaces, as a floral symbol of female virtue.
In ancient Greece, the Roses was an emblem of the Aphrodite, the Goddess of Love. According to some stories, the flower sprang from her tears as they mingled with the blood of her dying lover Adonis. But others have claimed this story for the origin of the Scarlet Pheasant's Eye, (Adonis annua).  Judging by its ancient associations with various funeral cults, Rose is the more likely candidate.
Rose symbolizes eternal love – beyond the grave. It has long been used to signify the approaching death and a 'rose garden' is often regarded as synonymous with the' final resting place'. This symbolism is echoed in fairy tales, such as the Sleeping Beauty, who is overcome by a 'magical sleep' after pricking herself with the spindle. The entire castle and all within it become engulfed in an impenetrable mass of rambling Roses until she is finally brought back to life by the love of her prince.
Ancient myths often mesh the symbolism of life, death, and love – reminding us that they are closely related. The red Rose symbolizes blood, the magical conduit of the life-force itself. In dualistic philosophies, life and death are seen as mutually exclusive opposites rather than different phases of a process that consists of both and is cyclic in nature. Love engenders life and life engenders death. But death is a phase of recomposing, Once rejuvenated the soul returns when love calls.
Since the earliest times, Arab perfumers knew the secrets of this beautiful flower and incorporated its scent into their perfumes and cosmetics. The Damask Rose, a crossing of Rosa gallica with either Rosa phoenicia or Rosa moschata, is the source of Rose Otto, the highly prized 'perfumer's gold.
In case you ever wondered why anything to do with roses should be named Otto – the word derives from the original 'Attar', which is the western phonetic rendering of the Arab root 'itr' – meaning 'essence'. Thus 'Rose Otto' means 'the essence of the rose'. However, these days the term is steam distilled rose oil.
Although it is said that Avicenna invented the art of distillation in the 10th century, remnants of essential oils have even been found in the tombs of the ancient Egyptians, and in pre-historic alembic stills dating back thousands of years BC.
Perhaps the oldest method of oil extraction was to simply macerate fragrant flowers in a fatty oil base, a simple form of enfleurage. Another story claims that rose oil was discovered accidentally – in a most romantic fashion, of course: the waterways that meandered through the palace gardens had been filled with rose petals in preparation of a royal wedding. Engulfed by the heavenly scent, the couple floated through this sea of roses in their barge, when suddenly they noticed a layer of oil on the water – the heat of the midday sun had extracted the oils naturally and thus the essential oil of rose was discovered.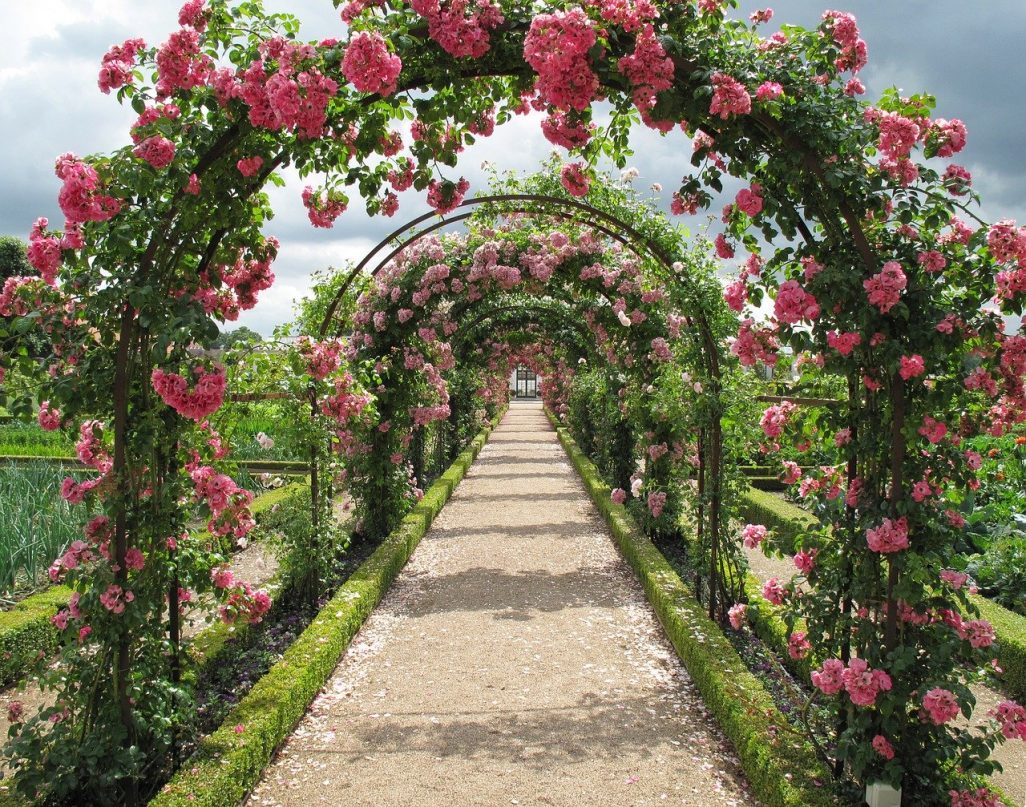 The Ladies in those ancient days were crazy for the heady, warm, sweetly-spiced scent of Roses. Then as now, this sensual aroma is thought to inspire love, a power that even Cleopatra had no shame to exploit as a means of seducing Mark Antony. She filled her bedroom with a carpet of rose petals 2 ft deep and Mark Antony succumbed.
During their most decadent era, the Romans were famous for their lavish (some would say 'wasteful') use of rose petals. They used the petals like confetti to shower returning warriors, they poured them over banquets to the point of almost suffocating their guests, and covered floors and beds with the fragrant petals. Perhaps this was the origin of 'strewing herbs'. They also worked them into a myriad of medicinal concoctions, cosmetic applications, and even culinary treats. Roses had become so important to them that they ripped out the fruit orchards to make way for rose cultivation.
One of the oldest cultivars or rose is R. gallica – the apothecary's rose. This variety is highly fragrant but only has one flowering season. It seems most likely that the Romans first introduced this Rose to northern Europe, but it may have been lost and forgotten again until the crusaders brought it home with them during the 10th century, as a souvenir from the Holy Land. Monks began to care for them in their monastery gardens, tending to them with devotion. They tried hard to give this most sensuous of flowers, the emblem of female sexuality and love, a chaste Christian image. They presented it as a symbol of pure love, embodied by the Virgin Mary. But the Rose never lost its associations with romantic, and carnal love. Sales figures on St. Valentine's Day prove the point.
By the 15th century, the rose had turned into a dynastic royal symbol in Britain. That association is commemorated in the tales of the power struggle between two royal houses. Their conflict became known as 'the War of the Roses'. The house of Lancaster was represented by a red rose (Rosa gallica?),  while the house of York had adopted the white rose (Rosa alba?). After many battles, peace was eventually returned to the land when the two families were joined by the marriage of Henry VII (house of Lancaster) and Elizabeth (house of York),. The joining of their roses begat the Tudor Rose, which has become emblematic as the 'Rose of Britain'. However, this Rose is an idealized symbol and remains a horticultural fantasy. Although scores of rose breeders have attempted to create a rose that would bear both red and white petals, none have so far succeeded.
At one stage, there was such a fascination with all things 'rose and beautiful', it was only natural that the apothecaries of the day developed a Rose cult of their own. They invented an entire pharmacopeia based on the rose. John Gerard, the famous British Herbalist writing in the 15th century devoted some 13 pages to extolling the virtues of roses. Rose petal tea, syrup, jelly and preserve, powders, pomades, pastilles and electuaries, liqueur, tonic wine, and honey, rosewater, and oil were all part of their repertoire. Some of these have survived to this day, although generally roses are no longer used medicinally. However, they do still feature as flavoring agents to sweeten medicines, or as a therapeutic ingredient in manifold cosmetics.
Folk-medicine utilized roses 'according to 'to the doctrine  'like cures like', to stay the flow of blood and to soothe inflammation and burns.
Read more about the medicinal uses of Roses next week