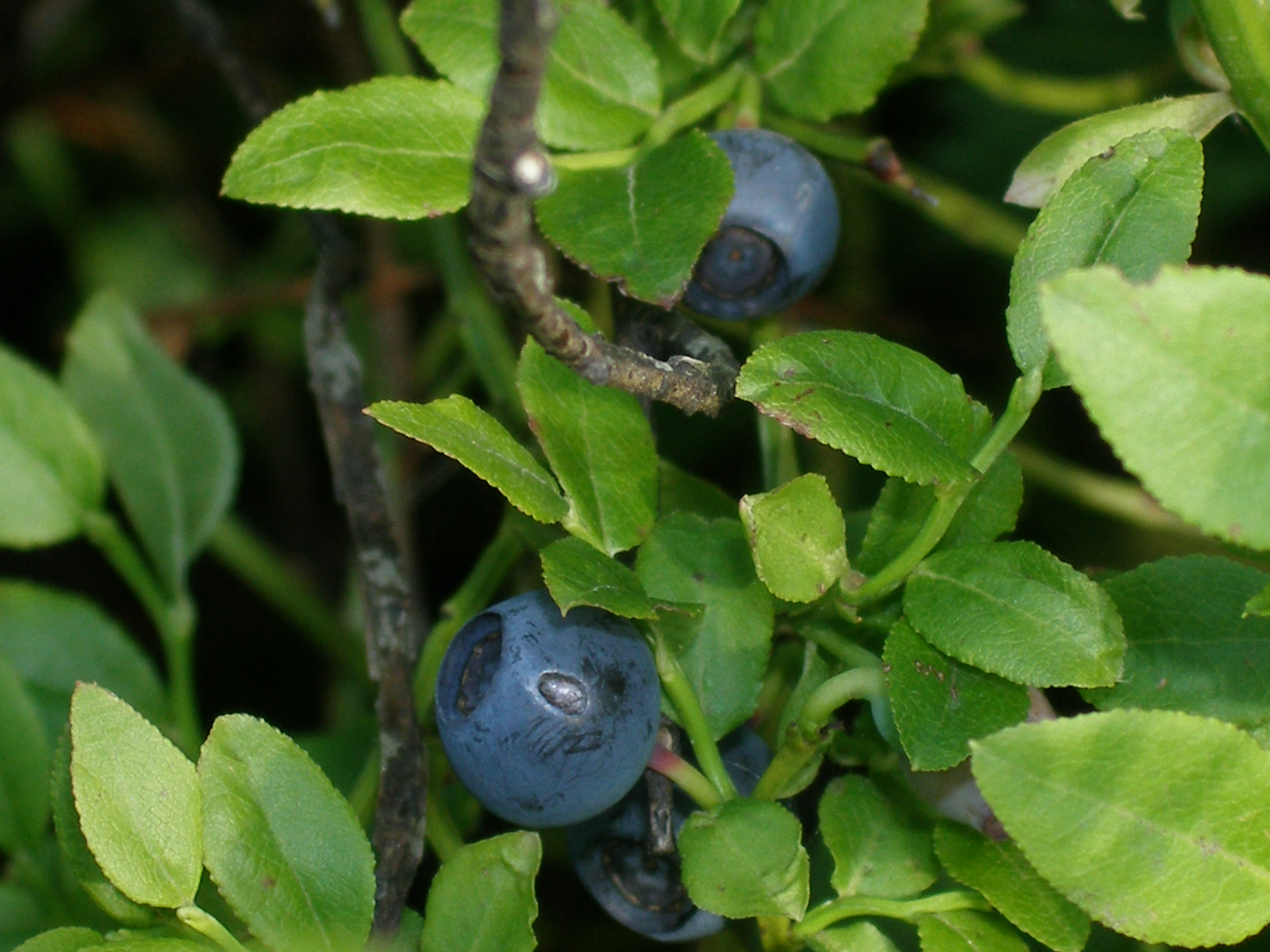 There is nothing that beats a bowl of freshly picked wild berries. Bliss courses through my body as I think about happy childhood days of carefree summers spent stuffing my face with bilberries, raspberries, and wild strawberries. Hands, shirt, and face stained purplish-red – I did not care. I was happy as a bear, gorging myself on a seemingly inexhaustible supply of berries. At the age of 5, life couldn't be any better. The passion for foraging has stayed with me ever since.
Blueberries prefer an acid environment. Their natural habitat is the northern pine forests, as well as heath, and moorland. Although they can be found in the moors of southern England they are more prolific in Scotland and Wales. In the US, a closely related species is mostly found in the Rockies and other mountainous regions of the Western States. High bush blueberries (Vaccinium corymbosim) are widely cultivated in the coastal areas of the Northeastern US and Canada, where they are native.
Bilberries are a member of the heather family. The wiry, low-growing plants can completely carpet a forest floor. The leaves are small, elliptical with finely serrated margins. The reddish fairy bell flowers that dangle singly from the low bushes are typical of the heather family. By the end of July/beginning of August, depending on local climate conditions, the bluish-black berries appear.
To be sure, picking the squishy little berries requires a certain degree of patience. Some people use a berry rake, but it damages both the plants and the berries. Cleaning the berries can be a bit of a chore as the little stalks tend to be a bit 'clingy', and tedious to pick off. But the effort is well worth it. Nothing quite compares to bilberry bliss.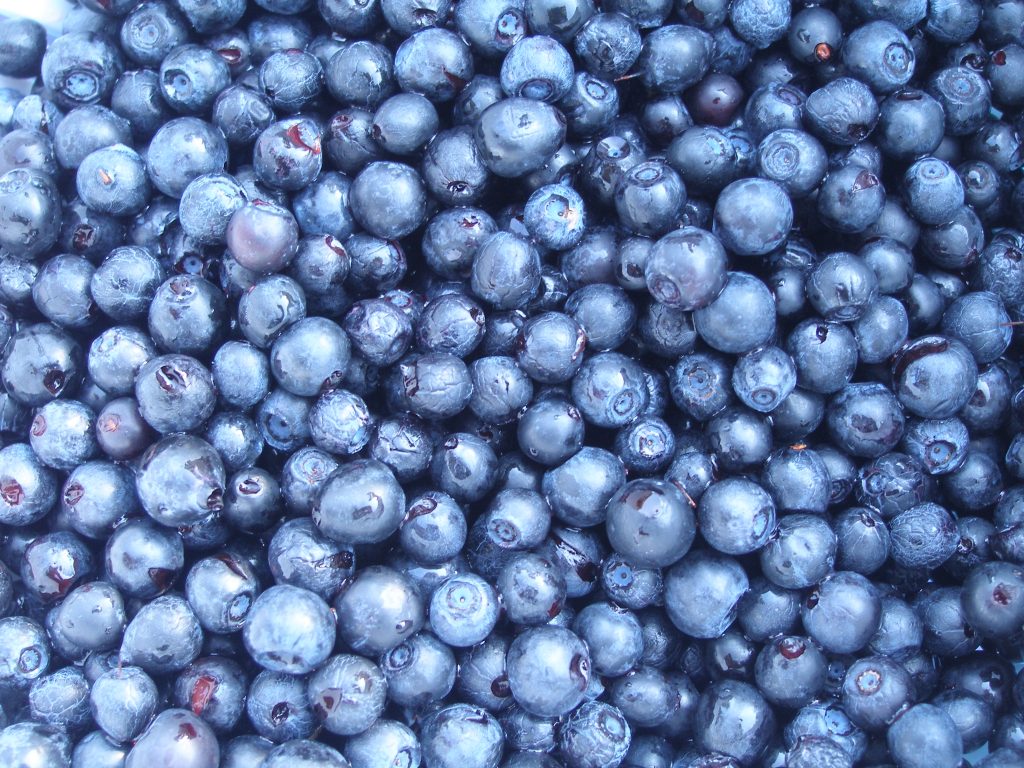 Medicinal uses:
Although Bilberries are not a prominent part of the materia medica, both berries and leaves have medicinal properties.
Parts Used
Leaves
A tea made from Blueberry leaves can lower blood sugar levels. However, recent animal research suggests that long-term use of large doses can have adverse effects.
Berries
The berries enhance the peripheral blood circulation, which among other things, improve visual acuity. This property helps diabetes sufferers and people who find it hard to adjust to poor lighting conditions. They are also hailed to improve blood supply to the brain and thus make an excellent brain superfood. These findings suggest that Bilberries make an ideal snack fruit.
They have also been found to reduce cholesterol and to fight free radicals. In fact, according to a study by Tufts University, which examined 60 different fruit and vegetables, blueberries demonstrated the highest levels of antioxidant activity due to the high levels of anthocyanin (a common plant pigment). Red wine is another well-known source of this antioxidant that is known to support heart health. However, Bilberries contain 38% more of this compound than red wine. Another antioxidant in their make-up protects against colon cancer.
Bilberries have a pronounced effect on connective tissues, enhancing their strength and stability. They are recommended as a therapeutic food to alleviate varicose veins.
Thus, they are easily not just one of the most delicious fruits, but also one of the nutritionally most valuable. Make the most of them, while the season lasts!
CAUTION:
Blueberry leaves contain oxalates, which, when concentrated in the blood can form crystals that can damage the kidneys. People suffering from urinary problems or kidney disease should avoid oxalate-containing foods. Use blueberry leaves in moderation.
Recipes 
If you are lucky enough to find a plentiful patch, perhaps mixed with other berries, such as wild strawberries, raspberries or blackberries, you can make a cold berry soup – a favorite summer treat in Scandinavian countries, very-berry ice cream, sorbet or yogurt cream, which, when stabilized with vegetarian gelatine, makes an excellent cake filling. Blueberry milkshakes are also delicious. Or, if you want to preserve them for later, try making jam or syrup.
Blueberry juice:
Puree about 1 cup of blueberries.
Add 1 cup of water (or more if you like it thinner). Simmer briefly, add sugar or honey to taste, strain through cheesecloth, and cool.
Blueberry smoothy:
Add one cup of blueberries to 1cup of milk and a ½ cup of yogurt. Whizz in a blender. Add sugar and/or lemon juice to taste.
Blueberry Muffins
Ingredients:
1 cup blueberries (fresh or frozen)

1 ½ cups all-purpose flour

½ cup brown sugar

1 tsp. baking powder

½ tsp. baking soda

¾ tsp. salt

Pinch of cinnamon

2 eggs

1 cup buttermilk

¼ cup butter
Method:
Preheat oven to 400°F. Grease muffin cups.
Tumble blueberries with a little bit of the flour, enough to coat them. Combine the remaining dry ingredients: flour, sugar, baking powder, baking soda, salt, and cinnamon. Set aside.
Cream the butter with the eggs and buttermilk; stir into flour mixture until just combined (batter will be lumpy). Stir in blueberries until evenly distributed. Fill muffin cups ⅔ full with batter. Bake about 20 minutes until golden
Blueberry Pie
There are gazillion delicious recipes for blueberry pies and cheesecakes. To maximize the healthful properties of this delicious treat forget the cheesecake and just fill a pie crust with a slightly cooked blueberry mixture.
Preheat the oven to 375°F.
Crust:
1½ cup graham cracker crumbs (or digestive biscuits)

½ cup melted butter

⅛

cup of water
Crumble the Graham crackers and mix with melted butter. Add just enough water to create a dough that sticks together. Press into a deep 9″ pie tin.
8 cups of blueberries

7 Tbs cornflour or tapioca

3 Tablespoons water (or grape juice)

2 Tablespoons lemon juice

Cinnamon to taste

¾ cup of sugar
Wash the berries. Combine corn starch, sugar, and optional spices in a mixing bowl. Add lemon juice and water and blend well. Gently combine blueberries with the cornstarch mixture and fill it into the pie crust. They may overfill the tin, but the volume is reduced during baking.
If you like, add a crumb topping:
¼ cup of sugar

½ cup flour

¼ cup butter, flaked

Rub together until it becomes a crumbly mixture and spread all over the pie. Cook for about one hour at 375°F or 190°C.
Serve with fresh whipped cream.
Blueberry cream
2 cups of blueberry

2 cups of quark (smooth cottage cheese or fromage frais)

½cup whipped cream

Sugar

Lemon juice

Cassis
Clean and slightly bruise the blueberries, pour a little cassis over them and some sugar.  Marinate for a few hours until the sugar is dissolved and the blueberries have turned a little mushy.
In another bowl blend the fromage frais with the lemon juice and some sugar until smooth. Fold in the whipped cream and stir in the blueberries. If you add a little gelatine to the quark (follow instructions on the package) you can also use this cream as a filling for a pie crust.
Cold Blueberry soup:
Wonderful dessert/dish for a summer's day.
Take a quart of blueberries, bruise, or mash. Add the same amount of water and a little lemon juice. Simmer, add sugar to taste. If you don't like the seeds and skins, you can strain the liquid through a fine sieve or cheesecloth. Dissolve a little cornstarch and add to thicken, but take care not to use too much. Simmer a little while longer, then allow to cool and put in the fridge. Whip some cream. When the blueberry soup is cold enough, serve with dabs of fresh whipped cream. Some people like to refine this recipe by adding a little cassis to the soup.