How to make Birdseed Feeders
During the winter, birds don't always find enough food. To help them through these times of scarcity, why not offer them some 'birdseed feeders'. They are really easy to make and much appreciated. All you need is birdseed (you can use pre-packed supplies, or mix your own, using a blend of edible seeds, nuts, and dried fruit, such as sunflower seeds, buckwheat, oats, millet, linseed, wheat, cracked peanuts or hazelnuts, raisins, etc, some hardened vegetable fat, suet or tallow.
Birdseed Cookies
To make 'Birdseed cookies' you can use Christmas cookie cutters.
Materials:
250g of hardened coconut fat
500g of birdseed mix
string
Method:
Melt the fat in a saucepan
pour in the seed mixture until the fat is almost completely saturated
Stir well.
Allow the mixture to cool until it hardens to the consistency of peanut butter.
Line a baking tray with baking paper and arrange your cookie cutters or shapes
Now you can spread the seed mixture into the cookie cutter with a spoon or spatula
Use a toothpick to poke a hole through which you can thread the string once the cookie has completely hardened.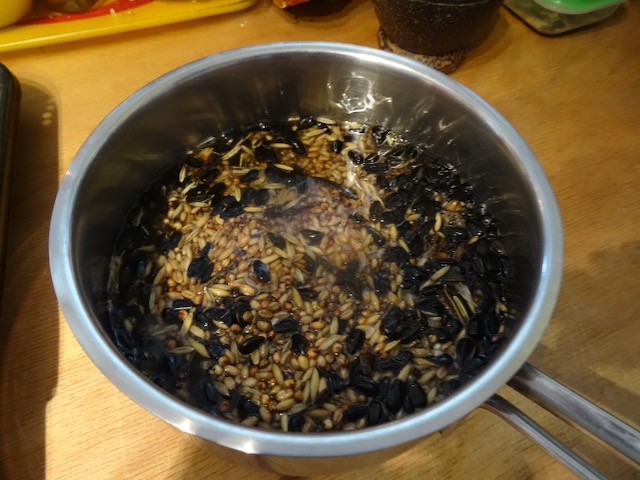 Flowerpot feeders
These are also easy to make. You'll need small terracotta flowerpots with a hole in the bottom
Materials
250g birdseed mixture
500g suet or hardened coconut butter
a swig of sunflower oil
small flowerpots
forked twigs
string
Method
Take a forked twig and pull the straight end through the bottom of the flowerpot.
Fasten with a piece of string and pull the string ends through the hole as a hanger for the flower pot.
I used a second, short twig to fasten it securely. The forked end of the stick should stick out at the open end of the pot.
Make the seed mixture as before, but add a little swig of sunflower oil (not too much!) to keep the seed mixture a little bit softer.
Allow the mixture to cool until it has the consistency of peanut butter.
Fill the pot with the fat/seed paste and allow it to harden some more so that it won't drip out of the pot.
Now find a tree or better still, a bush that is not accessible to cats (e.g. hawthorn tree or elderflower tree) to hang your ornaments and flowerpot feeders.