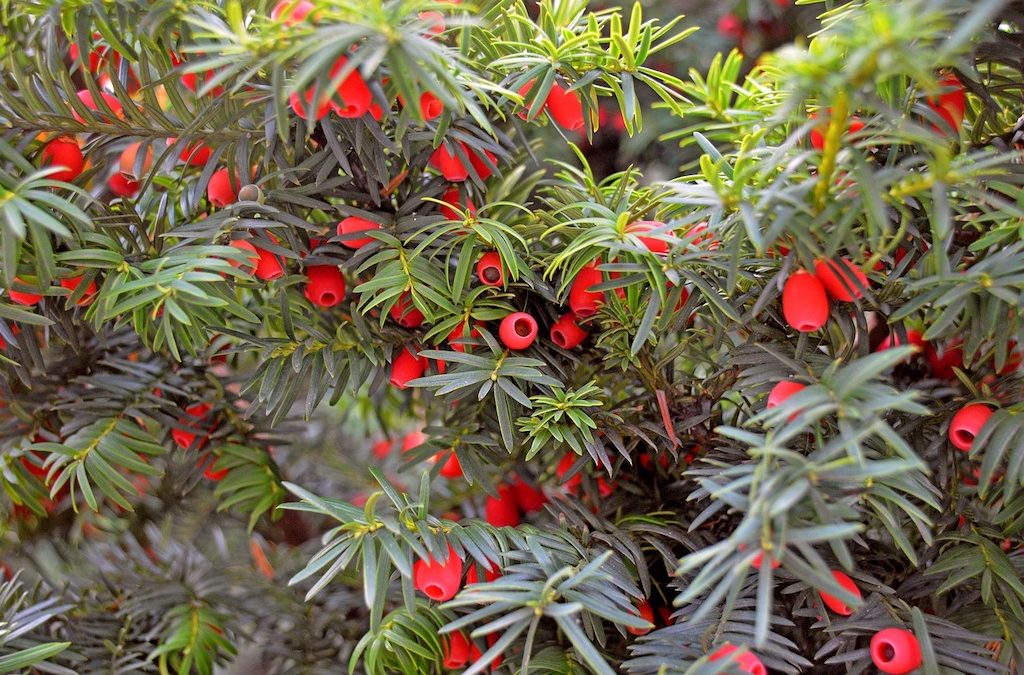 Yew – Taxus baccata
Few western European trees are as enigmatic as the Yew. Dark, brooding and sometimes eery, each Yew tree very much has its own personality.
Botany:
The Yew (Taxus baccata) is an evergreen, needle bearing conifer- but a strange one. Instead of wooden cones, it shelters its seed in a bright red, soft and slimy fruit cortex that takes the shape of a cup (Baccata = cup). The seeds, hidden within the 'cup, along with all other parts of the tree except for the arils, are highly poisonous.
Yews are dioecious; female and male flowers appear on different trees, but only the female flower-bearing tree produces the fruits. They reach sexual maturity between 15-30 years of age, pretty young, considering their potential lifespan! It is difficult to measure the exact age of a Yew tree because most of them become hollow as they age, which means we can't count tree rings. But in Britain and Europe, there are several, estimated to be between 2000 and 4000 years old!
As trees go, their height is not that impressive. Yews only grow to about 10-20 m tall, but they can develop an admirable circumference of more than 6 m. Unlike most conifers, they do not produce any resin.
Yews have a dark appearance, and they love shady spots. But they tolerate the sun if they were exposed to it from the start.
Mythology:
As an evergreen with a seemingly infinite lifespan and a somewhat dark, mysterious Gestalt, it is not surprising that Yews have been linked to the realm of the Dead. In Britain, the oldest Yews are found in cemeteries, often in association with a sacred spring. Britain's oldest one is the Yew of Fortingall, in Perth, Scotland, believed to be some 3000 years old. However, its age is difficult to verify since it is hollow, and young shoots that grow from the centre, fuse with older ones, thus constantly rejuvenating itself.
In the runic alphabet, the Yew is associated with Eiwhaz Rune, which signifies the shortest day of the year, the eve of the winter solstice. It symbolizes the dying Sun but also its rebirth, since Yews possess this magic power of rejuvenation. Yews cast the dark, silent cape of eternity over the departed and take care of their souls in the afterworld until the time of their rebirth has come.
Thus, Yews are symbolic of life and death, seen as complementary forces rather than polar opposites, and joined at the threshold at the beginning and the end of our lives.
Folklore: Sleeping under a Yew tree was thought to induce prophetic dreams and offer a glimpse beyond the veil.
Properties and uses
A couple of thousand years ago, Yews were common throughout Europe and Britain. But they are slow-growing trees that were decimated for the sake of war. Yews were the primary source-wood for longbows – which, before the invention of gunpowder, were the most common weapon of war. Even today, Yew bows are used for making longbows for archery. In medieval times, Yews were planted in and around castle grounds to ensure a steady supply.
The wood, which is both strong and elastic, is superbly suited for this purpose. Archaeological evidence has shown that it has been used to make weapons since prehistoric times. Palaeolithic spears and arrowheads made of Yew have been found in a marl pit in southern England. The arrowheads had been dipped in an arrow poison made of Yew, Hellebore and Hemlock to make them extra lethal. Yews alkaloids first stimulate, then slow the heart rate, causing the victim to fall into a coma and die within an hour and a half. The oldest such spear, some 150 000 years old, was still stuck between the ribs of a mammoth carcass.
By the 16th century, Yews were almost extinct. But, they were saved by the invention of gunpowder which was invented right around that time, allowing Yew populations to recover.
Medicinal uses:
In recent times, Yews were in the news for saving lives. A compound found in the Pacific Yew, Taxus brevifolia, was discovered to have cytostatic properties, capable of inhibiting cancerous growth. But both, the Pacific Yew and its habitat are threatened. A single tree only yields 3 kg of bark, containing only 1g of Taxol, the sought-after active compound. Taxol proved highly effective in chemotherapy for treating breast- and ovarian cancer, and thus was in high demand. Given the slow growth and endangered status of the trees, the situation was precarious. Scientists were struggling to find a way to synthesize Taxol from other sources. But eventually, the breakthrough came in the 1990s. Scientists had managed to create Taxol molecules from Taxus baccata, the European Yew, which is a far more common species.
Thus, the Yew has held true to its ancient promise as a harbinger of both death and life.