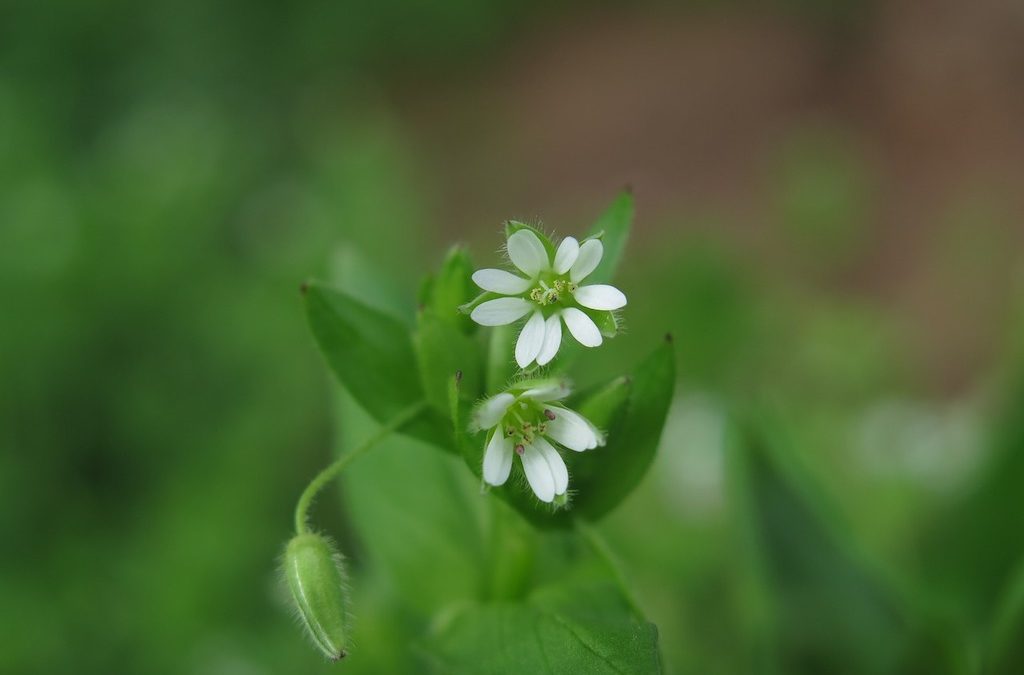 Chickweed (Stellaria media)
Once winter has settled in, foraging has come to a standstill. We have to rely on previously gathered supplies. Except, if you are lucky enough to live in a temperate climate zone, there may be at least one herb that defies the elements. You might have spotted it in your veggie plot: a little sprawling herb with heart-shaped leaves and star-shaped flowers that belongs to the Pink family known as Chickweed.
Chickweed is fairly hardy. It defies the elements and can pop up early in the year when other herbs are still asleep. 
Chickweed is one of those herbs that gardeners love to hate. They try everything to get rid of this persistent 'weed' that pops up anywhere humans have toiled to cultivate the ground. It is only natural. 
Chickweed is one of those herbs that blush at bare soil and quickly spread out to cover mother earth's nakedness. Chickweed binds the soil, prevents it from washing away and drying out – the consequences of standard gardening practices. 
Alas, as soon as this little healer herb appears, gardeners grit their teeth and start a crusade. How dare this audacious herb invade their plot?
But instead of battling it, you could welcome it as a gift. Chickweed is a blessing, not just for the earth but also for us. It is rich in chlorophyll, minerals, and vitamins that are sorely needed at this time of the year. And all we have to do is clip its tender tops. 
Chickweed has a mild flavour and is incredibly versatile. It can be used like alfalfa to garnish sandwiches, soups, and salads. It can also be incorporated into omelets, fillings, sauces, dumplings, or quiches – the possibilities are endless. But it should always be used fresh and finely minced, as the stems can be somewhat stringy. When cooking with Chickweed, bear in mind that it cooks down to practically nothing in no time at all, so just add it at the last moment and don't cook it for long. Overcooking would only diminish its benefits.
Chickweed also offers some valuable medicinal properties. The old herbalists describe its effect as cooling and soothing. They used it as an expectorant for afflictions of the upper respiratory tract, like an irritable cough. The same cooling and soothing properties also calm inflamed sores, rashes, itchy skin conditions, and burns. Traditional herbalists used it to make ointments and poultices for treating eczemas, boils, and abscesses.
Sometimes it is made into a tincture, but fresh works best. If you want to concentrate its effect, it can be juiced. But it does not keep very long. It can be frozen, but that will diminish some of its goodness. 
Warning: some people have reported allergic reactions to Chickweed collected from chalky soil. Like many other members of the Pink family, Chickweed contains saponins, and these can be toxic in large quantities.