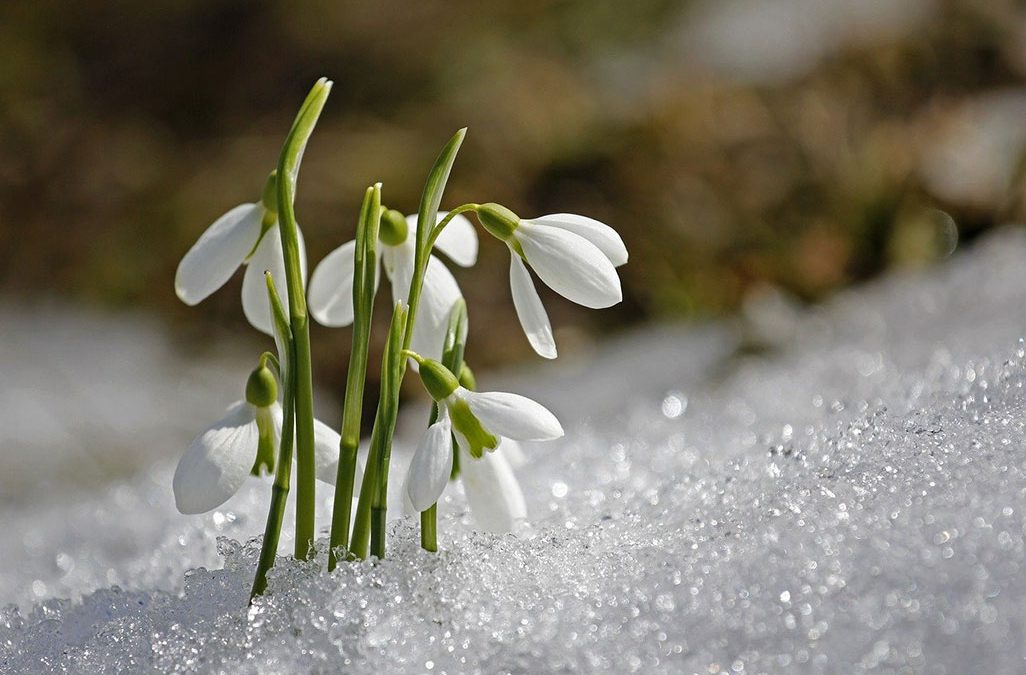 Imbolc, the return of the light
Winter is still with us, although is now entering a moody phase. One day it is frosty, stormy, and inhospitable, and a couple of days later the sun pops out to tease us. But there is one sure sign that things are beginning to shift, ever so slightly – the days are beginning to get noticeably longer again.
Imbolc is the season of the light maiden Brighid, a virginal Goddess, who appears to us as the returning light. As the sun climbs just a tad higher in the sky, it adds a few minutes of light to each passing day.
Nevertheless, it is still the middle of winter. But, if you look carefully, the buds are beginning to swell. Some precocious little flowers defy all the odds. Some particularly perky ones are pushing their way through the snow, or old leaves:  snowdrops, winter aconite or dwarf crested irises are among the earliest and bravest. Unmistakably, the life force deep within the earth is stirring. Last season's seeds are preparing to germinate. The wheel of the year is turning, and the sap is rising once more.
Purification and Fasting
Imbolc, or 'Candlemas' in Christian terminology, is the festival of growing light, of cleansing, and purification. It prepares us for Lent, the time of abstinence and fasting intended to purify body and soul.
In the past, fasting was a way of cleansing the body of the residues of heavy winter foods. Spiritually, it is an act of mindfulness and a way to prepare the body and mind for the spring and a new cycle of growth.
Envisioning the future
Imbolc is a time for visualizing in your mind's eye the possibilities that lie ahead. Some people use divination, others use affirmations. Take some time out to prepare yourself for the challenges and opportunities yet to come. Reflect on your strengths and weaknesses, on good and bad habits, and make a commitment to your soul's journey.
What kind of nourishment does your soul need? What are your intentions and purpose? How do you want to give back to life?  Are you walking your talk?
Imbolc is a good time to charge the seeds with intention and to foster your inner flame. Take care of that light through the dark of the night. Soon the sun will soon rise and grow strong again.