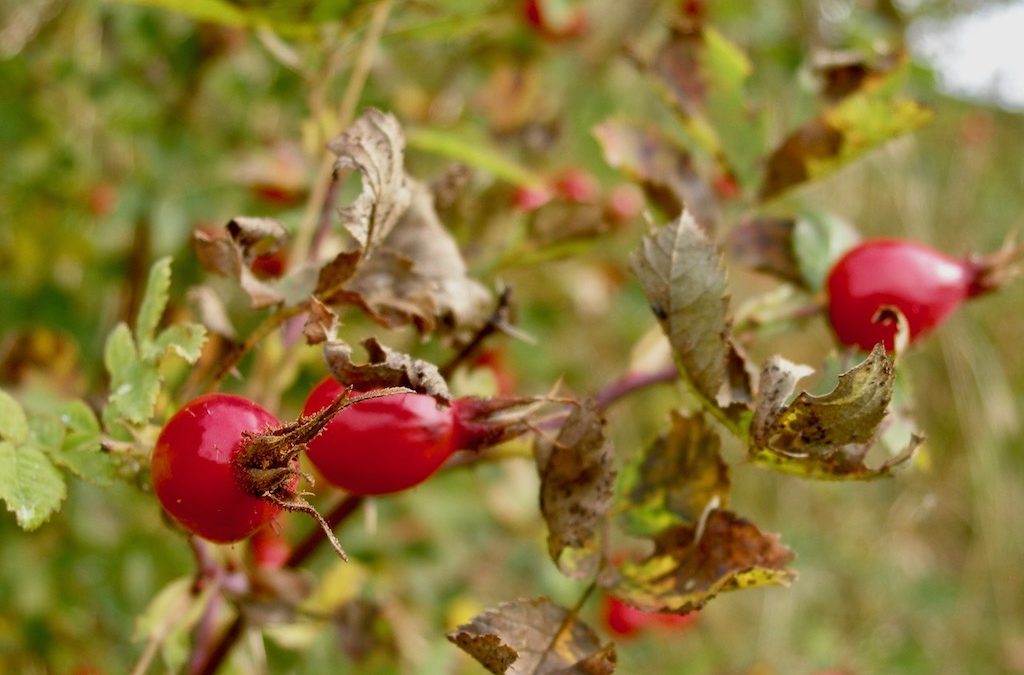 Making Rose hip Syrup
Rose hips are a funny fruit: Gourd shaped little piglets, wafting in the wind! The bright red berries sprinkle the landscape with a glorious, shiny dash of color. In their early stages, rose hips are rock hard and difficult to pick. The coat is thin, the fruit flesh meager, and their bellies are filled with an abundance of hard little seeds that are embedded in fine 'hair. Perhaps, this hair is just as irritating to a bird's throat as it is to a human one. Not so long ago, schoolchildren tormented each other by using it as 'itching powder'. The best variety to use for this purpose is the Beach Rose, Rosa rugosa, with its big, fat squash-shaped hips. It yields an abundance of fluffy stuff.
I can never resist the temptation of biting into the first rose hips that turn red in September, even though I know they are still hard and very sour. Inevitably, I end up spitting out the seeds and trying to get rid of the little hairs.
Rosehips are best picked after the first frost when their outer cortex turns soft and sticky. At this point, they can be gathered without a struggle and are much easier to process, too. But depending on your climate, that may come late, by which time there are not so many hips left, or they lost their appealing looks. If you have plenty of space in the freezer, you can also pick them when they are fully ripe and then place them into the freezer where they can soften and you can use them when you are ready for a day of action.
My favorite way to preserve them is to turn them into syrup or conserves, which make formidable Vitamin C bombs – much needed to boost the immune system during the winter.
When picking wild herbs, or fruit, I always ask the tree, bush, or plant for permission and explain why I need their help. I tell them that I need them to heal and nourish my friends and family and that I would very much appreciate their cooperation. I find that a plant addressed in that way will be much more cooperative and that I will be much more mindful as I pluck their leaves, fruit, or flowers.
It's not exactly 'news' that Rose bushes have sharp little thorns. Those foolish enough to approach roses 'mindlessly' are sure to carry forth the battle scars. The rose will win, even if you manage to get a few hips. So, a mindful attitude helps, a lot!
If it tries to tuck at my clothes or rip my collecting bag I gently remind it that I am not doing any harm. Usually, we come to an arrangement. For example, I let it hold my bag since it tries to get it anyway. That leaves my hands free to pull off the hips. Wearing gloves helps.
When I first started making rosehip syrup I went through the painstaking process of cutting off each hip's tail and snout, halving them, and scooping out the seeds and hair before putting them into the pot. This can be a very drawn-out and fiddly process! In fact, it was a pain in the neck (literally!) But then I found a better way! All you nee are frost-softened hips.
Simply wash and clean the hips (top and tail them) and put them into a grinder or processor with a little bit of water and grind them to a pulp. Then transfer the mush straight into a pot of boiling water (leave enough space for the mashed rose hips). This saves hours of labor and, what's more, it also saves the most vital constituent of the rosehip, the vitamin C. There is an enzyme in the hips that is triggered by exposure to oxygen. One triggered, it activates an oxidation process that destroys vitamin C. Interestingly, the vitamin C loss from boiling the hips is lower than the potential loss from oxidation and, the boiling water kills the enzyme.
As long as the rose hips are not too hard they will mush up very easily. In no time, you will have the sticky goo of seeds and fruit pulp floating in the pot. Simmer gently for about 20 minutes. Then turn off the heat and allow to cool.
Once lukewarm, strain out all the solids and measure the liquid. To filter out all impurities, use a cheesecloth to filter the liquid after you have strained out the solid parts. Return the liquid to a (clean) pan and add a kilogram of sugar per liter of liquid. (Make sure you are using a large enough pan!) Stirring occasionally, let the sugar dissolve by itself for a while, before you return it to the heat. (This shortens the final simmering time considerably.)
Once the sugar has more or less dissolved, return the pan to the heat and simmer gently until all the sugar has dissolved completely. Meanwhile, sterilize your bottles. As soon as all the sugar is completely dissolved, fill the syrup into your prepared bottles, adding the juice of 1 lemon per liter of syrup. Top with a twist-off pop-up cap. Unopened, they will last as well, and as long as jams do, but once opened, they should be stored in the fridge.