Hi, Thanks for stopping by!
This website has been sleeping for quite some time. Some people thought it had died altogether. But, no! Thankfully, that is not actually the case. Rather, I have been going through a long period of reassessment, thinking, learning, and restructuring. I needed a new vision. And eventually – I found it!
So here we are, back again, with a whole new look and a slightly different angle. This site is still about plants, about people and about the planet, and how we can all make a difference. But, the vision has expanded. During my long absence, I have become more interested in eco-psychology, vision quests, and earth-centered spirituality. Although they had always been part of Sacred Earth, I now feel a strong urge to give them more space. 
If you were a fan before, you will have noticed that I have updated and modernised the site's design – hopefully for the better :D. Looking through the old articles I was tossed – should I just throw them out, or revamp the whole site? In the end, I opted for the latter. But instead of slogging through hundreds of pages before coming back on-line, I decided to edit and post them as I go along. So, some of it may look familiar. But there will also be plenty of fresh stuff. Which reminds me – please subscribe to nature notes, if you would like to be kept in touch.
 I am happy to be back and I am happy you are here to join me! So let's get started!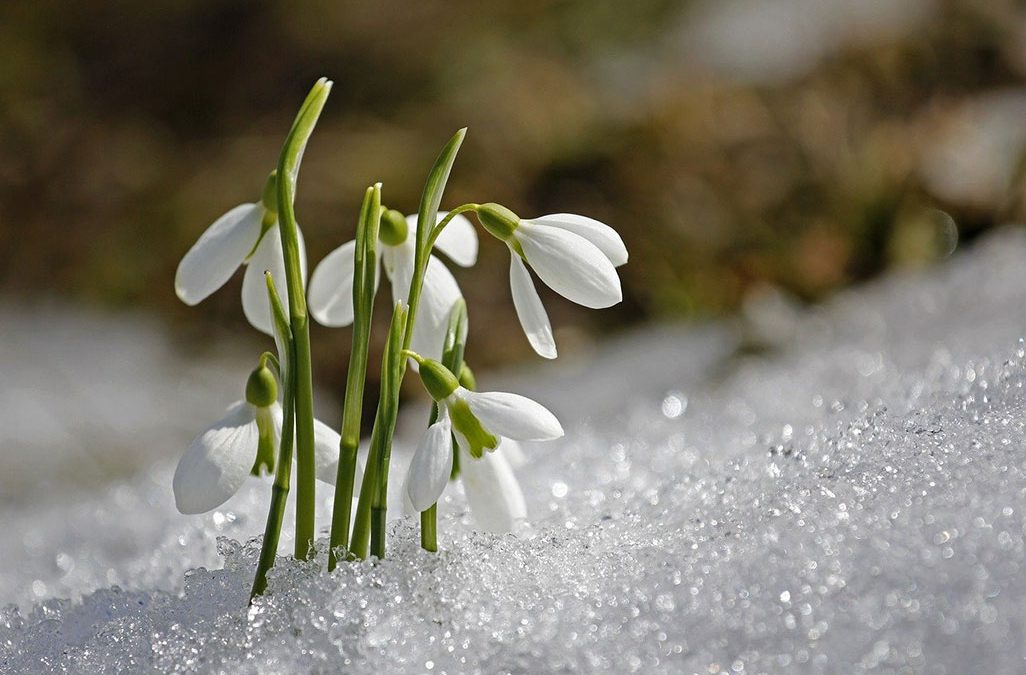 Imbolc is the time of the light maiden Brighid, a virginal Goddess that appears as the returning light. Quite noticeably the days are getting longer, by a few minutes each day. It is still the midst of winter and yet, if you look carefully, the buds are swelling. Some precocious winter flowering plants defy the odds. Here and there some particularly perky wildflowers are peeking through the snow or old leaf litter:  snow drops, winter aconite or dwarf crested irises, perhaps. Deep within the Earth, the life-force is stirring, the seeds are soaking up the waters of the thawing snow and begin to germinate. The wheel of the year is turning. Slowly the sap begins to rise once more.
Imbolc, or Candlemass in Christian terminology, is the festival of growing light, of cleansing and  purification. It augurs the time of Lent, traditionally a time of abstinence and fasting to purify body and soul.
In the olden days, people would fast or restrict their diets in order to cleanse the body of all the residues of heavy winter foods. To practice a little self-care in this way is to prepare body and mind for the new season.
It is a also a time for scrying and divination, for visualising in your minds eye the possibilities that lay ahead. Take a little time out to prepare yourself for the challenges and opportunities yet to unfold. Reflect on your strengths and weaknesses, on good and bad habits, and on making a commitment to your soul journey. What kind of nourishment do you need to feel fulfilled? What kind of meaning are you giving your life (or want to give your life)? Are you walking your talk?
Imbolc is a good time to charge the seeds that you want to flourish with intention and to foster your inner flame. Take care of that light through the dark of the night. Soon the sun will soon rise again.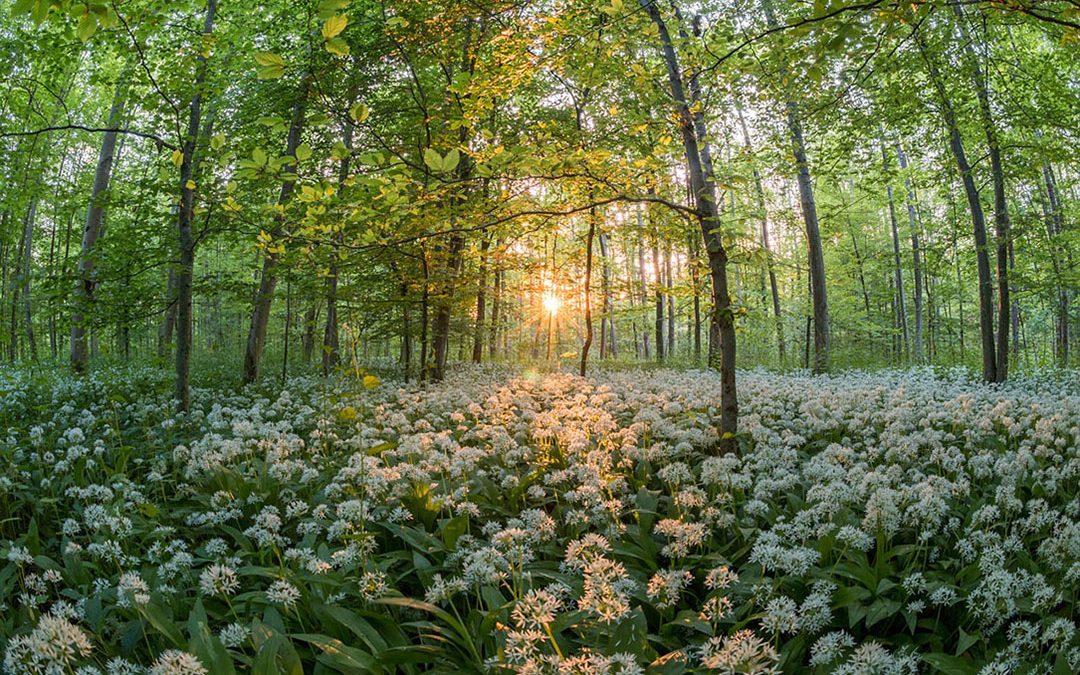 Foraging Wild Garlic (Allium ursinum)
The birds have been singing on the top of their lungs, announcing that finally and irrevocably spring is here at last. It came in with a blast of flowers that seemed to be popping up all at once, and now there is a veritable flood of petals both on the ground and in the trees. It is a lush and exuberant time – sheer bliss for any and all nature spirits. And it is incredibly hard to stay put, in front of a screen.
If you have been out there enjoying this blooming bliss, you might have noticed that in some parts of the woods there is a strong whiff of garlic lingering among the trees. You probably will have smelled it long before you discovered its likely source – a small but prolific plant, with broad leaves and a single flower stalk that rises from the centre and explodes into a white globe of star-like, little white flowers. You have discovered Ramsons (Allium ursinum), also known as 'wild garlic'. This is one of my favourite spring edibles – prolific, tasty, versatile and very healthy.
All parts of this plant are edible, but I usually only gather the leaves, in order to safeguard the wild stands of this herbal treasure. I also don't take the whole plant, but only some, preferably young leaves from each.
The medicinal value of wild garlic is similar to that of cultivated garlic. It is rich in vitamin C and iron and makes a great blood cleansing herb. Ramsons have a long history as a vitalising tonic spring herb. It can help alleviate arteriosclerosis and reduce high blood pressure. However, be aware that large quantities can have a drastic effect on the digestive system. Ramsons are no longer used medicinally, but if you let food be your medicines, as Hippocrates recommends, then make ample use of wild garlic as a great spring tonic.
CAUTION:
Be careful to wash the leaves very well. Growing so close to the ground and often near a stream, the ramsons can be contaminated the eggs of the fox tapeworm, which can be very harmful (even fatal) in humans. Fox tapeworm lodges in the liver or lungs, but can reside there undetected for years. Foragers can get regular check-ups for this infection. Although blood tests are not 100% accurate they may give some indication. If detected early the worm can be treated/operated upon successfully, but if left too late, it can destroy the liver. This safety warning applies to all herbs, berries and mushrooms that grow close to the ground, which exposes them more easily the faeces of an infected fox. The eggs are pretty durable in cool, damp conditions, but sensitive to heat and drying.
Note:
During the last decade, researchers have made some important new discoveries regarding drugs for the treatment of 'alveolar echinococcosis', the disease associated with fox tapeworm infestation. They found that some cancer drugs are quite promising as both diseases share some similarities. The treatment has become more efficient but it is not 100% perfect. Surgery remains the most effective option to date.
But I don't want to spoil your appetite or foraging passion. Infection rates are very low, even among people who spend a lot of time in the woods and have a passion for gathering from the wild. Drying or heating destroys most organisms. Just make sure to blanch the Ramsons leaves briefly, or at least, be sure to wash them VERY WELL.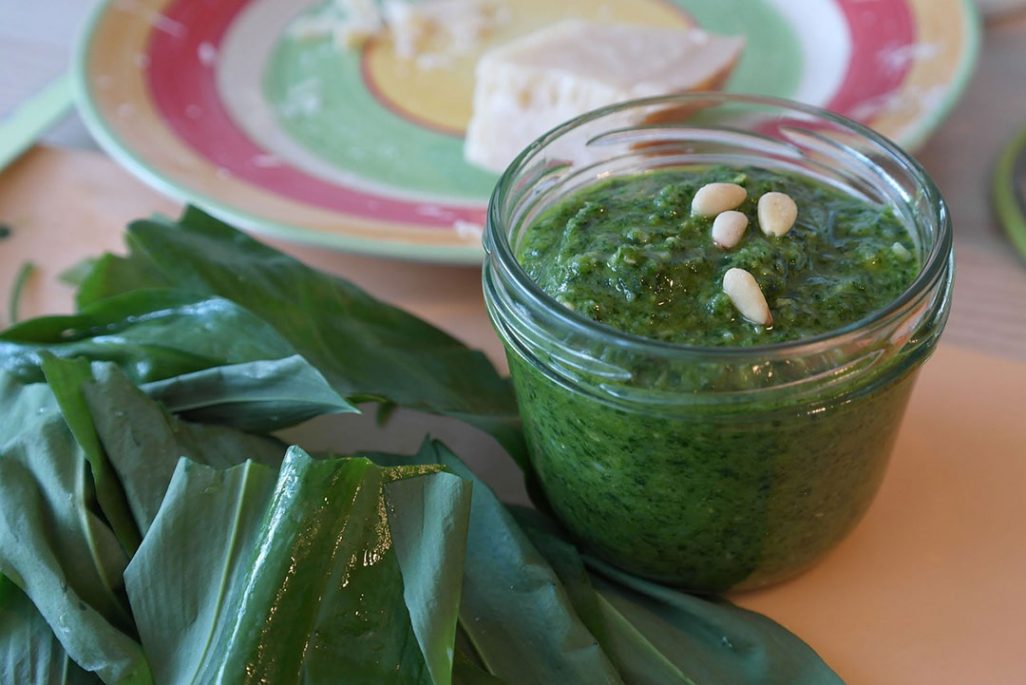 Recipes:
Ramsons Pesto
200g Ramsons Leaves

200g Basil Leaves

200g finely grated Parmesan cheese

150g Piñon nuts

Olive oil, salt to taste
Take the fresh, young Ramsons leaves and wash thoroughly. Briefly scald the Ramson leaves with boiling water. Take the same amount of fresh Basil leaves and place both in a blender. Cover with Olive oil and blend until smooth. Add 200g finely grated parmesan cheese and blend until smooth. Add some piñon nuts (or crushed walnut pieces).
This pesto is very versatile – you can stir it into freshly cooked pasta, blend with crumbly goats- or feta cheese, or, mixed with Ricotta, use as a stuffing for homemade ravioli, or blend it with cream cheese to make a tasty bread spread. I am sure you will come up with gazillion more tasty ideas!
Ramsons have a very strong flavour, which is why it might be a good idea to blend it with another herb. Basil works great, as the two complement each other well. Other herbs you can use are chickweed, dandelion leaves or lambs quarters. Sun-dried tomatoes marinated in oil also make an excellent addition to this pesto recipe.
Ramsons also complement fish dishes very well. Fish chowder with a few Ramsons leaves or bulbs thrown in is a delight. 
CAUTION:
Inexperienced foragers may confuse this plant with the poisonous Lily of the Valley, or Autumn Crocus leaves, which are also poisonous. However, Ramsons can be distinguished by the very distinctive, garlicky smell. If it doesn't smell like garlic it is not ramsons. Once the flower head appears, there is no mistaking them. Learn how to identify them correctly before the flowers appear as that is the best time to collect them. The bulbs can be collected after flowering when the leaves have died down.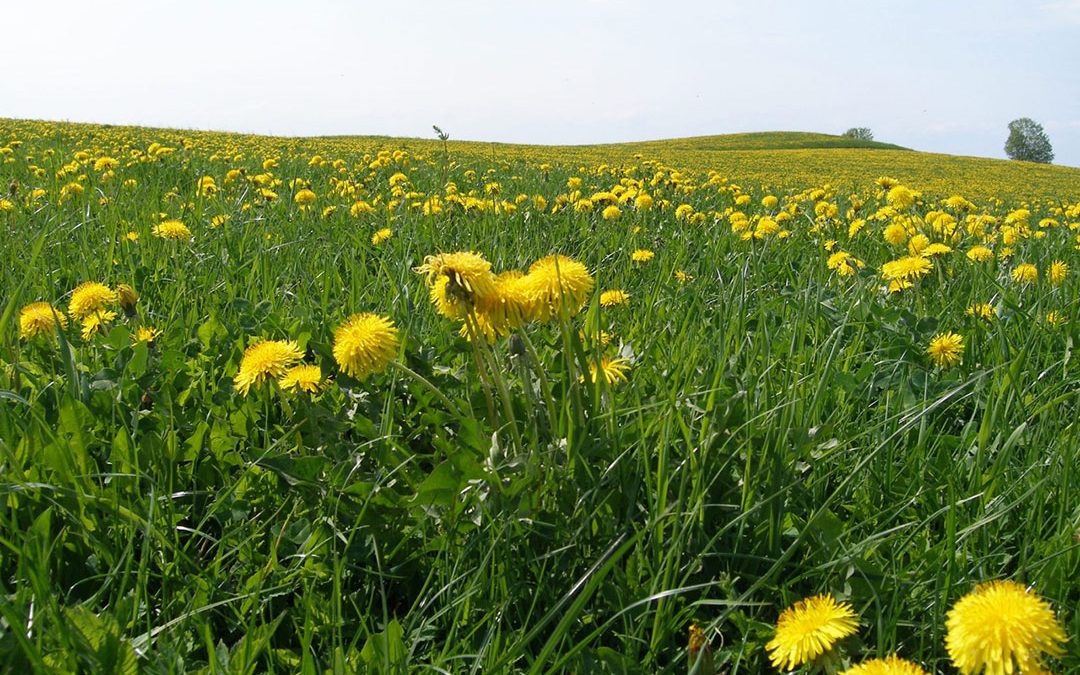 A Spring Detox resets body, mind, and spirit. Get out into nature, do some foraging, and enjoy the benefits of your pickings.
When the first rays of bright warm sunshine are trying to penetrate the layer of dust that has accumulated on the window panes through the winter, it always hits me: It's time to get out that cleaning stuff, air out the house and wash the window to let the sunshine in. And honestly,  it feels so good to get everything ready and prepared for a fresh start!
In the olden days, this idea was not only applied to the house, but also to the body. During the winter many of us are confined to a fairly sedentary lifestyle, which is bad enough. But what makes it worse is that rich and heavy diet we tend to adopt at that time. Maybe we intended to give up chocolate after Christmas, but there was so much left that we just kept eating it. And once after January 1st has passed, it seems like one has missed the boat for good intentions. But in fact, that is what Lent is for. It's the perfect time to tune into nature's cycle and apply the theme of cleansing and renewal to the body.
Depending on your growing zone, you might have noticed that the monochrome colours are changing and fresh green begins to sprout beneath the old leaves. Nature offers a whole host of delicious and healthful herbs that are just perfect for the job of inner cleaning.  No need to buy dried herbs! Most of what is needed will probably grow right in your backyard, or in a nearby meadow.
What does a body cleansing diet actually do?
The idea of a body cleanse is to support the body's eliminative functions in order to help it in the process of getting rid of accumulated metabolic waste products, which often linger on in a sluggish system. This is done by taking herbs that stimulate the liver and gallbladder and thereby also increase the metabolic rate. Some might act as diuretics and can assist the body in flushing out uric acid crystals, while others improve the function of the respiratory system. These herbs act as tonics, rather than remedies and improve overall function, not heal specific conditions. To a large part, the job of cleansing the body is the work of the kidneys and the liver. Apart from the herbs, certain foods, such as apples, celery, endive, horseradish, and sauerkraut are very useful here. How about trying them in a salad? Perhaps, with raw onions and garlic, even. Keep the marinade simple: olive oil and lemon juice are perfect. As for drinks, cutting out alcohol, coffee, tea, and sugary drinks is key. Fresh apple juice is very wholesome, or, if you can stomach it, a little apple cider vinegar diluted with water and sweetened with honey is a great cleansing and energy-boosting drink.
If you want to try some of the fresh green that is currently sprouting on your doorstep, you could lookout for the following herbs: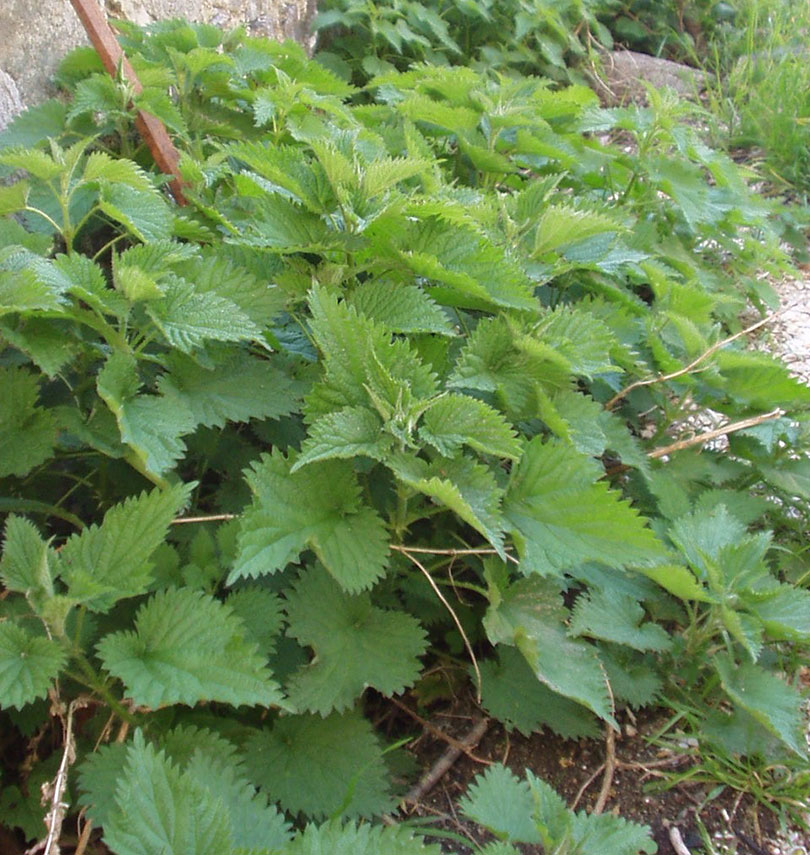 Nettles (Urtica dioica):
Most people seem to fear nettles because of their sting. And, perhaps that is just as well, for if they knew how wholesome and healthy nettles truly are, they would probably be an endangered species. Nettles offer a whole powerhouse of nutrients such as vitamins A, C, and iron. Their action is diuretic and they support the body's elimination via the kidneys. They are particularly useful for clearing out metabolic waste products such as uric acid deposits, form little crystals that can cause a lot of pain in the joints. The most potent way to benefit from them is to take the freshly expressed juice. Juicing them is not so easy, though. If you don't want to buy it ready bottled, preparing a tea made from the leaves is a good alternative. Nettle extract lowers the blood sugar level and can thus be very useful for diabetics.
As a wild vegetable, Nettles can be prepared like spinach, although it is best to mix the leaves with some other green, as its action on the eliminative systems can be quite strong when eaten in quantity. Adding the leaves to a warming soup is also a good idea.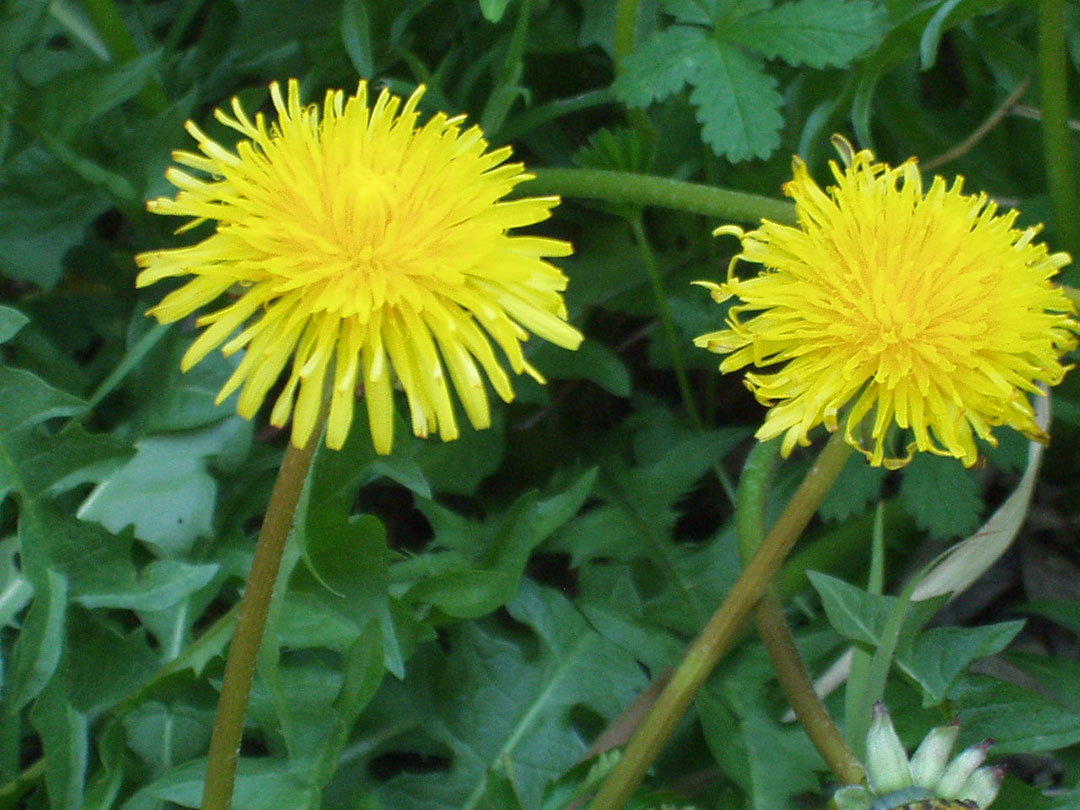 Dandelion (Taraxacum officinale):
Dandelion is one of the most beneficial spring herbs available to us. It bears a double blessing: the leaves are especially good for the urinary system. Their powerful diuretic action helps to flush out the kidneys, but unlike other diuretics, it is also rich in potassium, which means it will not deplete the body of this important mineral. Dandelion leaves can be enjoyed as a tea or used as a pot-herb, added to soups and salads. The roots, on the other hand, are quite bitter and have a beneficial effect on the liver Their chemical composition varies depending on the seasons. In spring they are rich in certain proteins and mineral salts, while in autumn they are rich in inulin (up to 40%), which is very helpful for diabetics.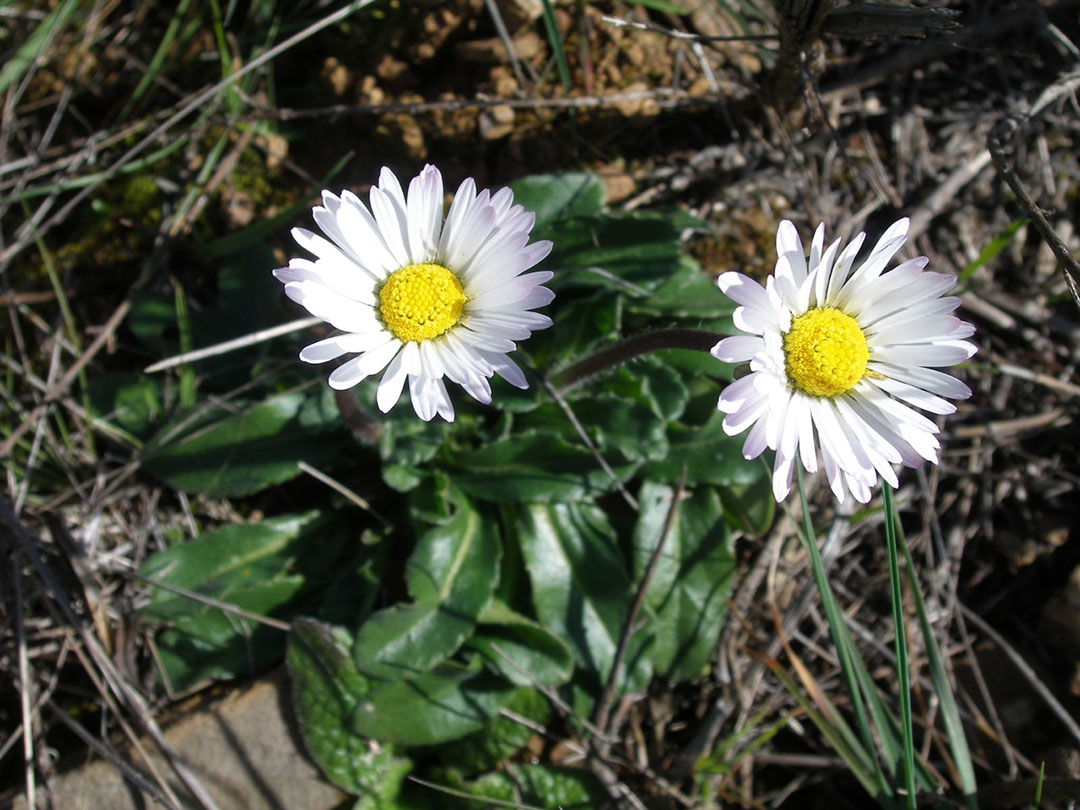 Daisies (Bellis perennis):
The dainty daisy doesn't look like much, other than a pretty flower that children like to play with. But the leaves and flowers have long been used in spring-cleansing diets. The juice pressed from the aerial parts is a most potent elixir, but must be freshly prepared each day. One tablespoon per day, diluted with the same amount of water, is the recommended dose.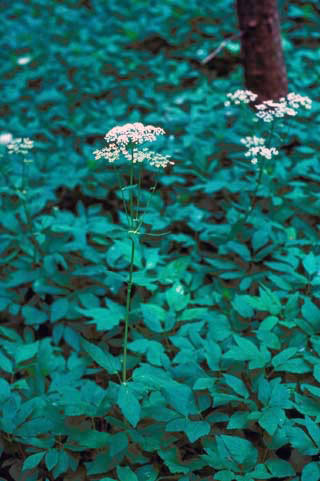 Goutweed (Aegopodium podagraria):
Gardeners curse this little herb, which often pops up uninvited and grows profusely in damp, shady places of the garden. The young shoots and leaves have a powerful cleansing effect on the stomach and intestines. They are also strongly diuretic and very effective in flushing out uric acid crystals and other metabolic waste products. They can be added to soups or salads and make a very potent addition to a spring cleansing diet.
As the name suggests, goutweed is specifically known as a remedy for treating rheumatism and gout – a painful condition affecting the feet (The origin of its Latin name, podagra – 'gout of the feet' alludes to this use). However, for this purpose, a strong decoction made from the roots is used as a foot-bath.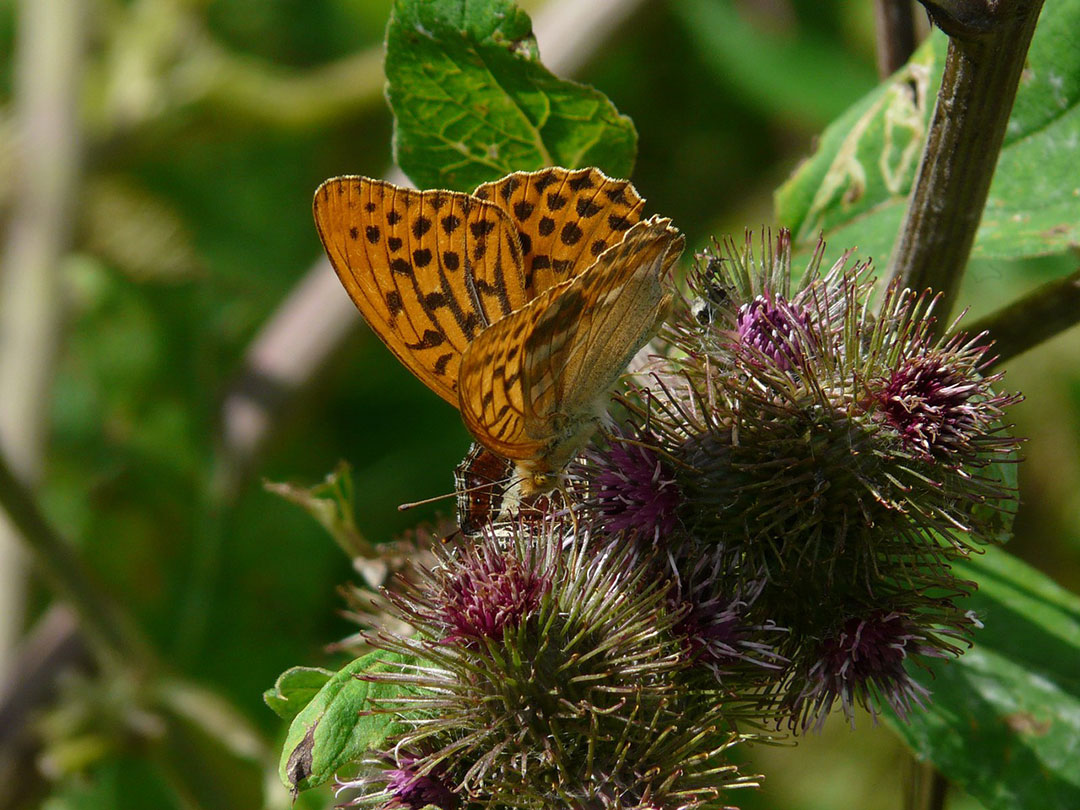 Burdock Root (Arctium lappa):
An amazingly resilient herb, Burdock can be found almost anywhere. But it is not always easily spotted. It is a biennial plant, meaning, its cycle takes two years to complete. The root of the second year plants is the most powerful. Burdock is known as a powerful liver tonic, helping it to eliminate toxins from the body. Burdock Root is also very beneficial for diabetics, as it can help to regulate gallbladder secretions. It is also rich in Inulin, a soluble dietary fibre that has several important health benefits. Inulin consists of a type of fructose that cannot be broken down and digested in the small intestines. Instead, it moves on to the lower gut where it acts as a pre-biotic and nourishes the beneficial gut bacteria that inhabit that part of the digestive system.
No-one encourages Burdock to take its place in the garden, as its elephant ear-like leaves are too big and rough, and it does not produce particularly pretty flowers either. Butterflies love them, though. And Burdock is in fact extremely valuable, especially for those who suffer from chronic health problems that call for blood cleansing: arthritis, rheumatism, gout, or skin problems such as psoriasis. Growing it in the garden has the advantage that one can prepare a bed for them with plenty of loose soil and straw, which makes harvesting the roots SO MUCH easier! Trying to pull them up from the compacted ground is, well, let's just say, a lot of sweat!
Burdock root can be taken as a tea (20g to 1/2 litre of water) or, used as a 'health food' it can be added to soups or stir-fries. In the old days, Burdock and Dandelion roots were also often used for brewing a rustic country beer or cordial.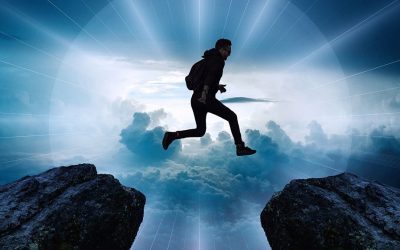 Today is a big day, in Astrology. While Astrology is not normally my topic here, I feel compelled to talk about it. We have all noticed the build-up of political tensions in the last 2-3 years. There have been outbreaks of political uprisings everywhere, from Hong...
read more